Mon 3 Aug 2009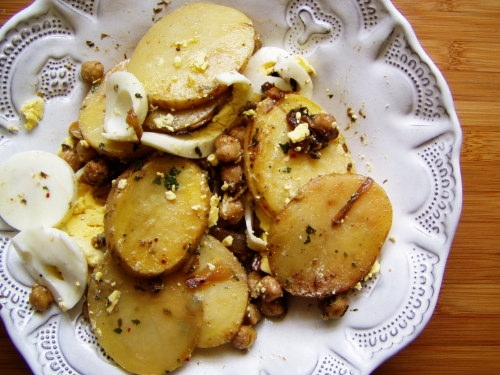 Oh lovelies. It feels like it's been a while, probably because it has.  I was out of town for several days this past week, working like a madwoman on a case.  Though the work was kind of exciting and allowed me to keep the most delightful company all week, I was very glad to come home – to my own bed, my house, my sweet husband, my cats, and my kitchen.
I wrote up this recipe before I left but didn't have time to post while I was on the road.  This is a perfect dinner for a night when you come home late, weary from the day but with a ravenous belly.  It's quick, satisfying, and falls squarely in that tiny space in my mind where I turn when I say "it's either this or chips and salsa."  Bear with me, friends, and more regular posts will resume soon.  In the meantime, go bake some bread!
Skillet Potatoes with Chickpeas and Salsa Verde
Loosely adapted from Orangette
Serves two, generously
Ingredients
15 oz can chickpeas
2 medium Yukon gold potatoes (small fist), sliced into thin rounds
½ yellow onion, cut on the grain
4T olive oil
Salt
Pepper
1T parsley, chopped
1T capers, sort of drained, loosely chopped
Dash of red pepper flakes
1 clove garlic, minced or crushed
3 T white wine vinegar
¼ cup grated gruyere
2 hardboiled eggs (optional)
Rundown
Cook the onions until soft
Add the potatoes
Add chickpeas
Chop the herbs and stir in other salsa components
Toss the potatoes and onions with salsa
Add cheese
Add eggs, if desired
---
Heat 1 tablespoon of olive oil over medium-high heat in a cast iron skillet.  Add the onions and cook until they begin to soften and turn translucent – about 3 minutes.  Add the potatoes and stir so that they mix with the onions and everything has a chance to lay against the hot surface of the pan.  Lower the heat to medium.
Continue poking at the contents of the pan occasionally and stirring when it feels right until the potatoes look a little less opaque and start to feel soft when you jab at them with a fork.  This should be somewhere in the 5 minute neighborhood, depending on how big a pan you're using (if you use a big skillet, and everything has a chance to lay flat, it will cook faster than if the skillet is small enough that things get a little stacked up).
Once the potatoes are cooked, rinse and drain the chickpeas and add them to the pan.  Stir everything well, cover, and turn off the heat.
Roughly chop the parsley and capers together.  Dump them in a small bowl and add the red pepper flakes, garlic, and vinegar.  Slowly drizzle in the remaining 3 tablespoons of olive oil while you whisk everything together with a fork.
Take the lid off the skillet and pour in the salsa.  Toss everything together gently with a spatula or wooden spoon and sprinkle with the gruyere.  Give it a minute, so the radiant heat from the potatoes can soften the cheese, and stir.  If you feel like adding hard boiled eggs, slice them into thin disks and gently fold into the mix.
Serve hot or cold.
2 Responses to " On The Road Again | Skillet Potatoes with Chickpeas and Salsa Verde "
This looks oddly delicious. I think I will love it, and I think my husband just may like it himself, although I would never in my life put all these ingredients together on my own. I'm looking forward to making it!

Oddly delicious is totally the way to describe these ingredients. Totally bizarre combination, but it really works. Enjoy!