Fri 18 Dec 2009
Spend the better part of 27 years following an academic calendar and you'll suffer a few years of being taken unaware by the holidays.  That's my excuse, anyway.  It has been over two years since I graduated from law school, and I'm still a bit lost when it comes to taking note of the advent of Advent.  Throw in the fact that I live in a land of two seasons (very nice and nice) and I'm perpetually surprised by the emails and phone calls from my family asking what I want for birthday/Chanukah/Christmas.  Even though I loudly lamented the lack of time to shop, the end of fall semester was an easy way to mark the coming holidays.  If you are one of those lucky folks with an internal calendar, I suspect you already have your shopping done and can totally disregard the rest of this post.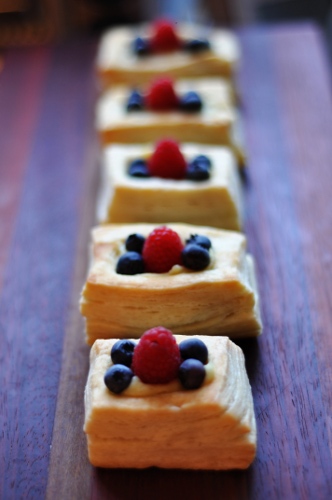 For those of you who suffer like me, here are a few gift ideas to round out your holiday shopping.  Scrambling for night 8? Nothing says "I did NOT forget!" like presenting someone with an envelope containing a screen shot of the things you ordered.   Looking more along the lines of kitchen equipment and gadgetry? See my Kitchen Equipment page for ideas.  Full disclosure: I participate in the Amazon Associates program, and receive a small percentage of the purchase price for Amazon purchases made through this site.  Wondering what the picture of creme-filled vols-au-vent has to do with gifts? Nothing. I just didn't want it to go to waste. Now, on to the gifts!
Ratio - for everyone with an iPhone and a kitchen
As I have previously mentioned, Michael Ruhlman's book Ratio is an essential addition to any home cook's library. By breaking recipes into 32 fundamental ratios, Ruhlman arms you with the tools to go beyond recipes and launch into your own universe of tinkering and experimenting with your cooking.  As if the book were not enough, he has recently released an iPhone app by the same name that includes the 32 critical ratios, each complemented by a calculator that adjusts the ratio according to your inputs. It has a save feature, and allows you to add notes to your recipes for later recall.  Out of all the recent attempts to marry classic concepts with new technology, this might be the very best union yet.  At $4.99, it's also a fantastic buy.  I've included a link below for the book; consider giving them as a pair.
Zingerman's - for everyone with a mouth
This isn't so much a specific gift recommendation as it is an introduction to my very favorite gift source. For the uninitiated, Zingerman's is a magical deli in Ann Arbor, Michigan that boasts a robust mail order business.  If you find yourself in Ann Arbor, do not leave until you have stopped by the deli on Kingston.  If you have more time and feel like serious restaurant indulgence, the Zingerman's Roadhouse takes comfort food to another level.  Let me put it this way: the Roadhouse introduced me to the donut sundae concept, and I have never looked back.
Gift-wise, zingermans.com is the end-all, be-all resource for the foodies on your list, or anyone who falls into that difficult has-everything-they-need category.  They carry everything from cheeses to baked goods to cured meats to rare and wonderful vinegars.  The customer service folks are kind and knowledgeable - if you find yourself unable to make a decision, give them a call and they'll be glad to help.  Here are a few of my favorites, but this is just the tip of the tasty Zingerman's iceberg.
Gingerbread Coffeecake
Cookie Sampler
Peppered Bacon Farm Bread
Chocolate Sourdough Bread
10-year Aged Balsamic
Agrodolce White Balsamic Vinegar
French Roast Coffee
Scones and Tea for Two
Arkansas Peppered Bacon
Ice Milk Aprons - for the woman who loves simple, classic things
In a world of disposable everything, it is refreshing to find people who design products with future generations in mind.  The lovely folks at Ice Milk Aprons are enchantingly enamored with the concept of heirlooms and have fashioned their beautiful aprons as such.  Available in full or half lengths (mine is pictured below), these gorgeous aprons are meant to be loved in your kitchen, then passed along for new lives in generations to come.  Each apron comes in an heirloom kit, complete with a tag to hold its owners' embroidered initials and recipe cards for your most treasured creations (which come in handy even if you, ahem, happen to store your recipes in a decidedly unromantic, electronic form, like someone I know).  One of these days, I'll post a picture of myself actually wearing my beautiful apron.  Such an occurrence will require a combination of foresight and daylight that has yet to manifest in the Salty Spoon kitchen.  In the meantime, enjoy the way it looks on a vintage Madame Bust:
OXO Mini Measuring Cup - for the usefulness quota inherent in every stocking
Some of the most profound workhorses in my kitchen happen to be the smallest.  This 4 tablespoon liquid measuring cup by OXO is one of those little workers - I use it almost every time I cook, especially when I halve or quarter a recipe and need an eighth of a cup of liquid.  Yes, you can always remind yourself that 4 tablespoons equals a quarter cup, but it's nice to have the same measurement spelled out in several, easy-to-read units.  This isn't one of those gifts that will knock the recipient's socks off right away; soon, though, they'll find themselves stunned and barefoot.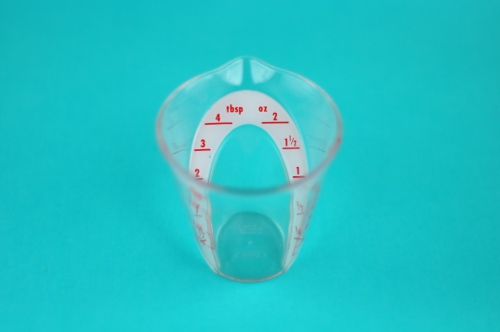 Books
If I were to write out a list of every good cookbook with which I'm acquainted, the post would be unmanageable. Instead, here are a few favorites and a few recent finds that I think are particularly delightful.
Sunday Suppers at Lucques - for anyone seeking a bit of simple elegance
The Craft of Baking - for your favorite baker
The Grand Central Baking Book - for your other favorite baker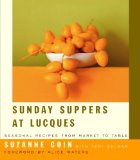 Betty Crocker: Everything You Need to Know to Cook Today - for the novice who doesn't know where to begin
The Flavor Bible - for anyone looking to learn more about flavor profiles
Ratio - for the anyone looking to reach beyond mere recipes