Wed 1 Jul 2009
---
Welcome to the very first Salty Spoon contest! Tell me your favorite kind of bread and earn a chance to win an instant-read thermometer, the kind I (incessantly) recommend.  The contest will remain open for one week, until midnight Pacific time on Wednesday, July 8.  There are two ways to send me your entry, and you may use either or both once a day until the contest is over:
1.    Comment on this post
2.    Send me (@SaltySpoon) a tweet on Twitter
Good luck – I look forward to hearing about your favorites.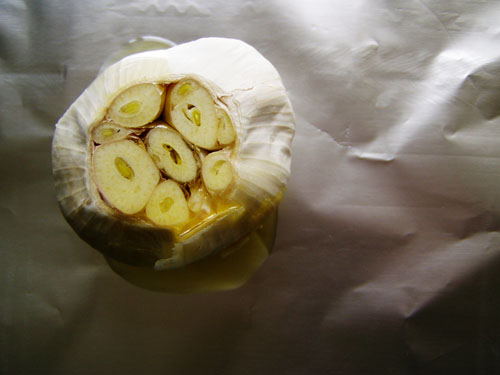 I've heard that real estate agents recommend baking a cake or a batch of cookies just before an open house.  The hope is that the sweet smell emanating from the oven will beckon to prospective buyers. When we shopped for our place, we saw something like 40 houses in four days, so I can't tell you with any certainty whether any of them smelled like cookies.  There was one place in Marina del Rey that smelled like old soup, and several new condos that offered the seductive chemical high of new carpet fumes, but there are none that sing out in my mind as That Place That Smelled Like A Big Fat Cake.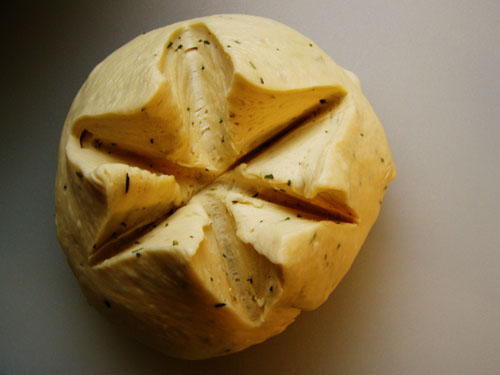 I would have remembered roasting garlic.  My allegiance to baked goods notwithstanding, if I were to select one aroma to illustrate the olfactory concept of Home, it would be the smell of garlic roasting in a hot oven.  As it roasts, garlic softens, both in texture and intensity.  It abandons the militant aggression it so favors when raw and matures into something warmer, friendlier, with a softer smile.  If raw garlic is an outspoken 19-year-old, defiantly braless and passionately committed to a new cause biweekly, then roasted garlic is the 45-year-old that kid grows up to be, who reads edgy historical fiction, drinks more green tea than coffee, and always listens patiently.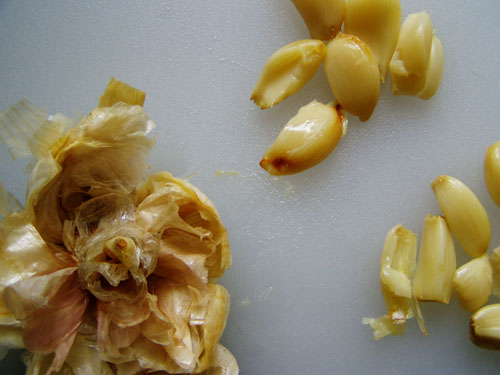 When I cook with garlic, I breathe a contented sigh every time I reenter the kitchen. The scent surrounds me, offering a time-worn flannel shirt for the nose.  It reaches in and puts me at ease; even the overhead Ikea tracklights seem fuller and more golden.  A simple batch of aigo bouido – a garlic soup from Mastering the Art of French Cooking – simmering on the stove sets guests' faces aglow as they enter for dinner.  Graceful billows of garlicky steam tempt them to the table.  And a loaf of bread made with a rosemary garlic paste beams as it bakes, filling the whole house with herbed wizardry.  Almost enough to sell the place.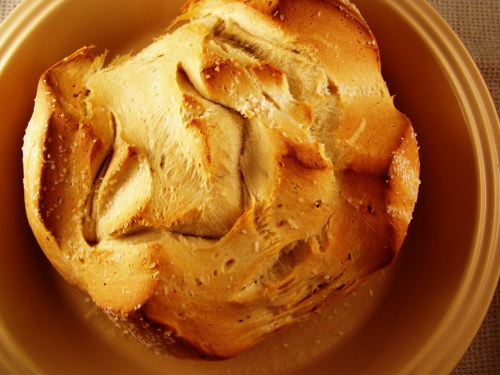 Roasted Garlic Rosemary Bread
Adapted from The Pioneer Woman
Ingredients
1 head of garlic
3T fresh rosemary
20 oz. flour - see note (a little over 4 cups)
8 oz. warm water
2t table salt
1t active dry yeast
4T butter, melted
1T olive oil, plus more for the pan
Kosher salt for sprinkling
Equipment
Large bowl
6-qt Dutch oven with a lid or a sturdy, rimmed dish (like a ceramic pie plate)
Rundown
Trim the garlic and drizzle with oil
Roast
Make the garlic-rosemary paste
Mix everything
Knead
Raise
Shape
Bake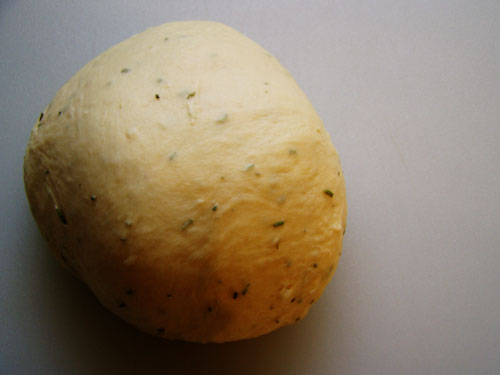 At least an hour before you begin making the rest of the dough, preheat the oven to 400. Chop the top off the head of garlic and lay it cut-side up on a large square of foil.  Drizzle with the olive oil.  Fold the sides of the foil up and around the garlic to make a packet.  Roast for 40 minutes.  When it's done, pull the packet out of the oven and open (carefully!) with kitchen tongs so that it can begin cooling.  When you can handle it, start snipping away at the skin and popping the roasted cloves free.  Seriously, be careful not to burn your fingers.  It sucks.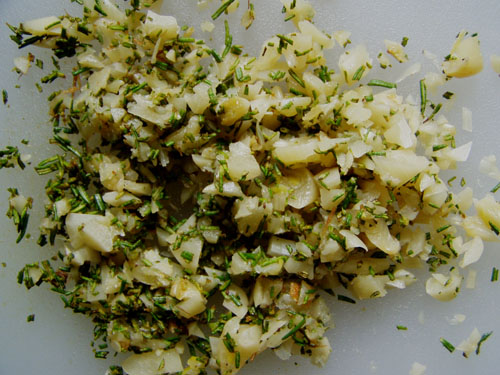 Collect the roasted garlic cloves and chop together with the rosemary until you have a coarse paste.  Mix the paste into the melted butter and set aside for a moment.
Sprinkle the yeast into the water and let it rest for 5 minutes – when it's ready, it will begin to form a foamy cloud.
Combine all of the ingredients in a large bowl.  If you have a stand mixer, fit it with the dough hook and let it go for 10 minutes.  If you are mixing by hand, stir with a spoon until everything is fully combined, then turn out onto a floured surface and knead until it is smooth and elastic.  It's ready when you can pass the windowpane test - tear off a small ball of dough and give it a little stretch in a few opposing directions.  If you can make it translucent without tearing it, it's ready.
Return the dough to an oiled bowl and cover with a clean dishtowel.  Allow it to rise at room temperature until doubled, approximately 90 minutes.  Once doubled, preheat the oven to 450 and knead the dough gently a few times. Shape it into a ball and set aside.
Generously grease a 6-qt Dutch oven with olive oil and place the ball inside.  If you are using a pie plate or something similar, just spread a few tablespoons of oil around the bottom and place the ball in the center.  Score the top of the dough a few times - I have done it with an X as well as a six-pointed star.  As it bakes, it will open and bloom to make a wonderful design.
Drizzle another few tablespoons of olive oil over the top of the ball and sprinkle with kosher salt.  If you use the Dutch oven, bake for 30 minutes with the lid on, then another 15-30 with the lid off until it is gently golden.  Once you've uncovered the pot, check in at 15 minutes - don't let it get too brown.  If you use the pie plate, bake for 45 minutes or until it gets that golden glow. When finished, the internal temperature should read around 200 degrees on an instant-read thermometer.
Carefully remove the loaf from the pot (remember that the sides will be very hot - I usually get 'er done with the help of kitchen tongs, a sturdy spatula, and prayer).  Cool for 10 minutes before diving in.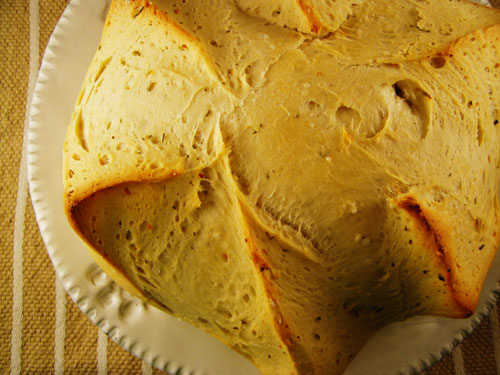 Flour note - the original recipe calls for bread flour.  I often find myself with more AP flour on hand than bread flour.  It works just fine with AP, though the extra gluten in the bread flour adds more loft.  Use either, but know that they will result in two different textures.  The AP version is sturdy enough to serve as a stunt double for sandwich bread when you, ahem, find yourself without any.
15 Responses to " Selling Points | Roasted Garlic Rosemary Bread "
*sigh* Now I'm hungry for bread. This bread, particularly, which I unfortunately cannot eat (celiac-bleh).

I love to cook, love to eat, and this post made me yearn to roast garlic. And eat it spread on crackers. GF ones, of course.

To eat, I love any of the egg-y breads, like brioche or Challah. My local bakery does Challah once a week and I usually try and pick it up. But to make, my favorite is the rustic french loaf from Crescent Dragonwagon's Soup and Bread book. Easy, tasty, impressive, and vegan. I'm not vegan, but some of my friends are, so it's a handy recipe to have in the arsenal.

Ohhh, Sarah, you are in luck, because my favorite Challah recipe is coming very soon. It raises in the fridge, so it's easy to work into your week.

Bria, this looks delicious! Not sure what I would bake it in though…I need a Dutch Oven! Or a big ole pie pan!

PS - I LOVE cinnamon twist bread, but I also cannot resist a good sourdough loaf (of just about any kind, though Boudin is kinda unbeatable!) I love challah, I love the whole wheat oatmeal honey bread (from epicurious) that was my first bread-baking experiment…I love banana bread…I LOVE BREAD!!

I love nothing more than a thick piece of warm banana bread with lots of walnuts in it! Speaking of which, I cannot manage to bake banana bread (or any quick bread for that matter) without the bottom being dry and the very top being gooey. Any tips or ideas about what I'm doing wrong?

Oh holy cow, this is the best/worst idea I've ever had. On the one hand, I'm busting with ideas for things to pull together for the site. On the other hand…there's going to be a lot of bread around here, which doesn't bode well for Project: Smaller Butt!

Lauren - off the top of my head, it sounds like either the batter is too wet, or it's cooking on the wrong rack in the oven. Quick breads are definitely something I've been meaning to make more often and to explore for using here, so I'll keep you posted as to what I come up with.

Also, you guys are making me hungry. Very hungry.

I haven't had much luck with yeast breads, although your recipes make me want to try again! I'm a huge fan of quick breads - they're just so…quick!, namely cranberry orange bread for winter, and cinnamon bread for summer.

I love a warm challah, just out of the oven. I also love a good baked banana bread, when I was pregnant the first few months it was one of the few things I could hold down.

I absolutely love rosemary focaccia with coarse salt…or something with a ton of seeds, toasted…or a really soft and shiny pretzel bun with a great burger. And definitely anything warm, which is why I'm looking forward to making my own for the first time. I have tiny tiny counters, but I finally have a table I'll be able to knead on!

Thanks for playing, everyone. Kim (#5) is our winner! This was fun, and I'm now busting with ideas for upcoming bread posts. We'll do this again soon with another prize and another question. In the meantime, happy cooking and eating. And, as always, thank you so much for reading. The writing/cooking/photography is fun, but it's the interaction with readers that really makes me smile. You guys are the best.

mmm, I'm really looking forward to making this bread. And someone is coming to look at my house tomorrow, perfect timing! I'll roast the garlic an hour before they come over I know this competition is very old, but I can't help but think of my favorite bread, which is banana bread with peanut butter swirls and chocolate chips! I swear, it's the best way to eat banana bread. Thanks for the recipe!

I came across this recipe & thought mmmmmmm!! The smell is amazing, hopefully it will taste as good as it smells. I didnt have a dutch pot so used a small casserole dish, next I wont & will bake as a normal loaf!!

I know this is an old post, but if you use AP flour, just add some Vital Wheat Gluten (~1 tsp per cup of flour) and your results will be closer to what you would get with bread flour.

Hardwarelust - excellent point. I have recently started using vital wheat gluten in several recipes and am loving it. Thanks for the note - definitely a great tip for making AP flour go the distance in recipes that call for flour with a higher gluten content.