Wed 24 Jun 2009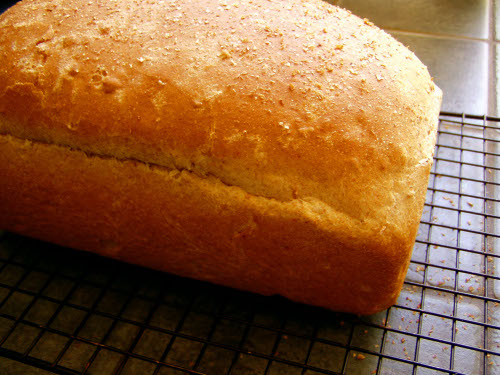 I have a confession: I cheated on my favorite sandwich bread recipe.  For several months, I regularly made the Multi-grain Extraordinaire recipe from Peter Reinhart's wonderful book, The Bread Baker's Apprentice.  Whether toasted or incorporated into a sandwich, it sings.  The finished product and I were so happy together.  But I had my differences with the recipe.
It's not complicated or faulty, quite the contrary.  Once the ingredients are ready, it falls squarely in the mix-it/shape-it/bake-it gang of sandwich breads (as does the following recipe).  The problem, for me, lies in getting the multiple grains ready for their extraordinaire status.  At least 8 hours prior to mixing the dough, the grains (cornmeal, oatmeal, wheat bran) must be soaked in a bit of water to form the aptly-named soaker.  Unfortunately, this sometimes exceeds the limits of my advance planning skills.  I usually make sandwich bread for the week on the weekend, which requires putting together a soaker on Friday or Saturday night.   After several weeks of making it to Sunday afternoon without a proper soaker, I went in search of a new sandwich bread recipe.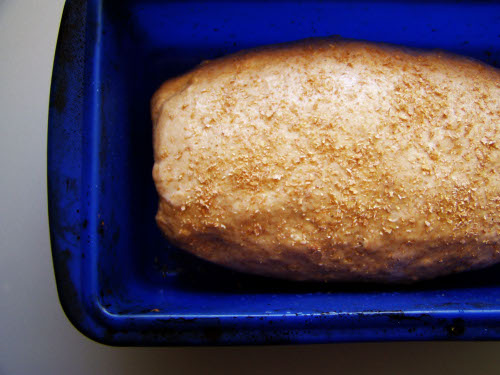 The fine folks at King Arthur Flour provided me with a new prospect.  I know we met on the rebound, I know.  So I'm taking it one loaf at a time.  It's been over a month since the Multi-grain Extraordinaire has heard from me.  We were pretty close, but there's no need for a formal pronouncement about the change in our relationship.  I hope we can just become casual friends who catch up once in a while.
If we do end up having to Have a Talk, I'll tell it the truth: it's not you, it's me.

Wheat and Oat Sandwich Bread
Adapted from King Arthur Flour
Yields 1 loaf
Ingredients
1 ½ cups all-purpose flour
1 ½ cups whole-wheat flour
½ cup milk (I use 1%, but suit yourself)
½ cup hot water (as hot as you can make your tap is fine)
4 T melted butter or vegetable oil
2 T brown sugar, packed
1 ¼ t table salt
2 t plus a pinch active dry yeast (1 packet)
1 T warm water
½ cup oatmeal
Rundown
Soak the yeast
Mix everything until combined
Knead until smooth
Raise for 60 minutes
Shape
Raise 60 more minutes
Bake
Equipment
Big bowl
Loaf pan (looks like this – you don't have to have one, but it will make a loafier loaf)
---
Mix the yeast with the tablespoon of warm water in a small dish and set aside for 5 minutes.
Once the yeast is ready, combine all of the ingredients in a large bowl.  Using a study spoon, mix everything together until the dough starts to leave the sides of the bowl.  It should be a unified mass, though shaggy and not smooth.  Turn the wad of dough out onto a lightly floured cutting board or a clean countertop and knead for 6 to 8 minutes.  It will be smooth and satiny.
If you are using a stand mixer instead of mixing by hand, fit it with the dough hook and set on whatever speed it recommends for kneading dough.   Once it all comes together in a unified mass, set a timer and check it in 6 minutes for that smooth, satiny look we're after.
Lightly oil a large bowl (your mixing bowl can stunt-double here as the proofing bowl is you rinse it, dry it, and oil it) and place the dough in it, turning it over once to lightly coat in the oil.  Cover the bowl with a clean dishtowel and leave it to double in size.  This should take about an hour.
Once doubled, turn the dough out onto your kneading surface and pat it into a rectangle that is about 9 inches wide and 6 inches long.  Starting with one of the short ends, roll it into a log and pinch the edge to seal.  Lightly oil a 9"x5" loaf pan and place the log in the pan, seam-side down.  Brush the top with water (wet fingers will work) and sprinkle with a bit of oatmeal or wheat bran.  Spray lightly with oil and cover with plastic.  Allow the bread to rise again for about another hour, at room temperature, until the top domes about an inch above the edge of the pan.  45 minutes into the rise, preheat your oven to 350.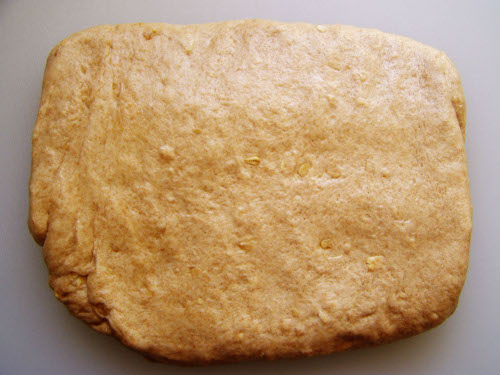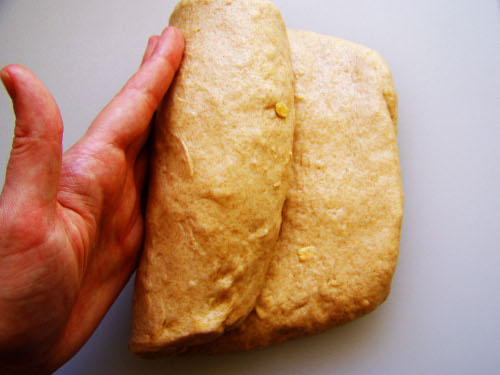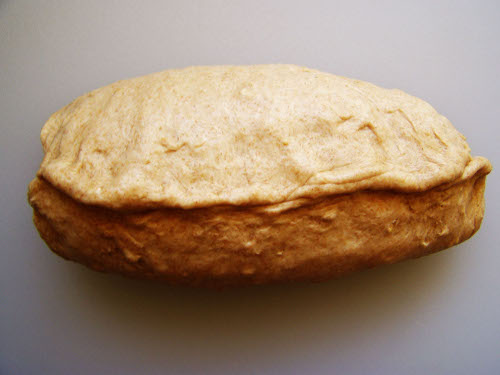 Transfer the loaf pan to the oven very carefully – it's really puffy at this point and you don't want it to deflate.  Bake for 35 minutes, or until it's light golden brown.  If you have an instant-read thermometer, the finished temperature should register around 190 at the center of the loaf.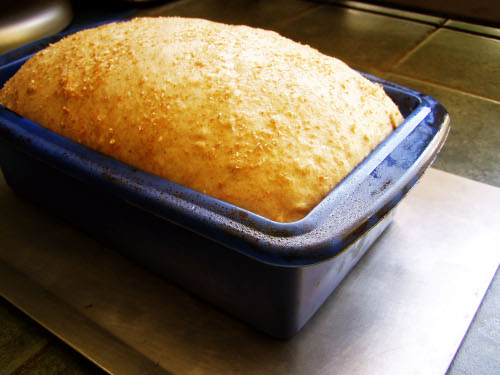 Remove the bread from the pan, sliding a table knife around the sides first to loosen.  Allow it to cool completely on a wire rack before slicing.  Store the bread in a plastic bag – it will keep for several days, but only if you allow it to cool completely before putting it in the bag (otherwise it will develop moisture from the heat condensation and get really yucky).
I find the pillowy softness of this bread to be just what I want for sandwiches and toast.  If you want something heartier, double the oatmeal to a full cup.  It will be sturdy enough for Chuck Norris's toast.
If you need to get to bed before it has finshed cooling, here's my trick: slide it, cooling rack and all, into the microwave.  It will be ready to bag by morning.
10 Responses to " The Rebound | Wheat and Oat Sandwich Bread "
I have also made this bread over and over again and also substituted the flour with all KA white wholewheat flour and have used other rolled grains instead of oatmeal as well. It is kid and husband approved!

Thanks for the detailed recipe, I am going to go make this RIGHT NOW! LOL wish me luck, my search for a good sandwich bread that I can make has been a long and painful journey!

Good luck, Christy! I think you'll be pleased with the results. Let me know how it goes and if you have any questions. Enjoy!

Everything is very open with a very clear
explanation of the challenges. It was definitely informative.
Your website is very useful. Thank you for sharing!
Trackbacks & Pingbacks:
9anime alternative…

blog topic…