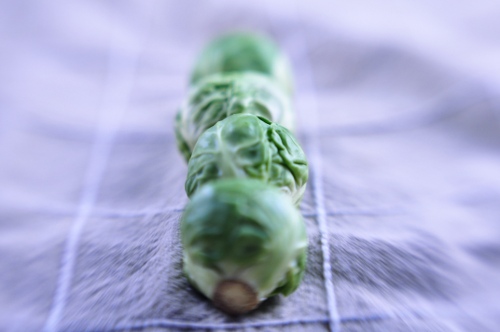 Wee, tiny versions of regular-sized things are almost always irresistible.  Mini Twix? Check. Kittens? Check. Those tiny, lady finger bananas? Double check.  Brussels sprouts? Not so much.
I think of them as an adult vegetable – one you only learn to properly appreciate when you've finally laid your inner six-year-old to rest so she can stop saying EWWW about such things. They're a nutritional powerhouse, packed with vitamins and protein.  And they are as cute as they can be, like perfect little cabbages for fairies and other small creatures interested in vitamin K.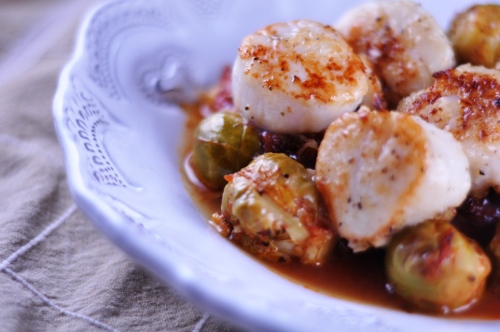 I happen to love them.   After I was inspired to try Suzanne Goin's balsamic braised version (amazing), I started playing around with other ways to braise these mighty balls of leafy might to perfection.  One night, I decided to use them in place of pasta under simple pan-seared scallops.  Braised in the tomato sauce, the Brussels sprouts took on a rich, tangy flavor while adding enough bulk to reasonably qualify the dish as a one-bowl meal.  Their earthy heft handily balances the scallops' sweet, spongy levity here; add a heel of crusty bread and you have a perfect storm of flavor and texture.  It's satisfying but not heavy which comes in handy in this, the season of dietetic good intentions.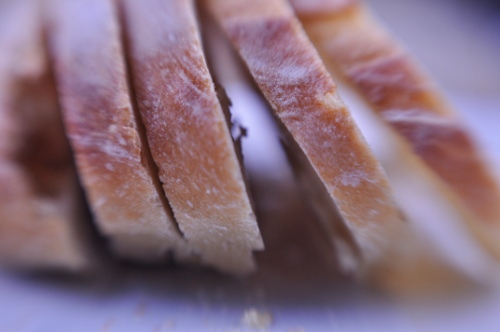 Since it's technically winter (even Los Angeles is hurting for decent fresh tomatoes this time of year), I stick with canned tomatoes.  I've been enjoying the various offerings in Muir Glen's 2009 Organic Reserve gift box recently, and the fire roasted diced tomatoes were an absolute knock out for this sauce.  Any 14.5 oz can of petite diced tomatoes will do, but I highly recommend looking into Muir Glen for a bit of extra sparkle.
(Keep reading Braised Brussels Sprouts with Tomatoes and Scallops…)