Sat 16 Jan 2010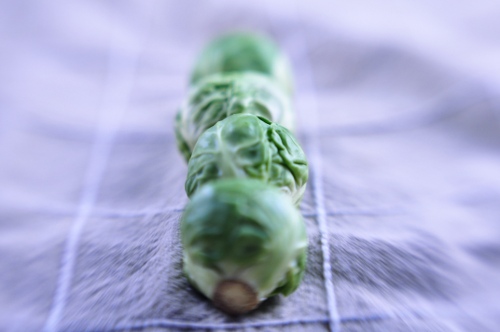 Wee, tiny versions of regular-sized things are almost always irresistible.  Mini Twix? Check. Kittens? Check. Those tiny, lady finger bananas? Double check.  Brussels sprouts? Not so much.
I think of them as an adult vegetable – one you only learn to properly appreciate when you've finally laid your inner six-year-old to rest so she can stop saying EWWW about such things. They're a nutritional powerhouse, packed with vitamins and protein.  And they are as cute as they can be, like perfect little cabbages for fairies and other small creatures interested in vitamin K.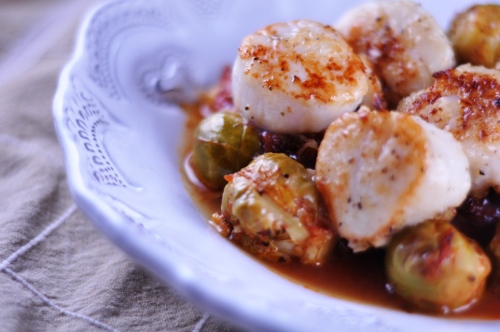 I happen to love them.   After I was inspired to try Suzanne Goin's balsamic braised version (amazing), I started playing around with other ways to braise these mighty balls of leafy might to perfection.  One night, I decided to use them in place of pasta under simple pan-seared scallops.  Braised in the tomato sauce, the Brussels sprouts took on a rich, tangy flavor while adding enough bulk to reasonably qualify the dish as a one-bowl meal.  Their earthy heft handily balances the scallops' sweet, spongy levity here; add a heel of crusty bread and you have a perfect storm of flavor and texture.  It's satisfying but not heavy which comes in handy in this, the season of dietetic good intentions.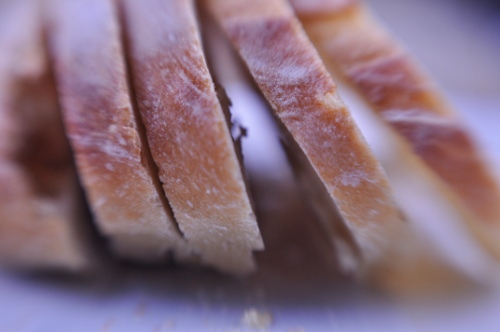 Since it's technically winter (even Los Angeles is hurting for decent fresh tomatoes this time of year), I stick with canned tomatoes.  I've been enjoying the various offerings in Muir Glen's 2009 Organic Reserve gift box recently, and the fire roasted diced tomatoes were an absolute knock out for this sauce.  Any 14.5 oz can of petite diced tomatoes will do, but I highly recommend looking into Muir Glen for a bit of extra sparkle.

Braised Brussels Sprouts with Tomatoes and Scallops
Serves 2
Ingredients
3 cloves garlic, peeled and crushed
2 T olive oil
1/3 lb small Brussels sprouts (approx. 24), rinsed
14 oz. diced tomatoes (see note)
½ cup chicken broth
¼ - ½ t chili flakes (to taste)
½ t dried herbs of choice – I prefer herbs de provence for the sweetness
12 sea scallops
1 T butter
Flour
Pepper
Sea salt
Rundown
Saute garlic
Add Brussels sprouts, cook to slightly soft
Add tomatoes, broth, spices
Simmer
Prep scallops
Sear scallops
Combine
Method
Heat the olive oil in a medium skillet over medium high heat until it shimmers. Add the garlic and cook until fragrant – about 30 seconds. Add the Brussels sprouts and cook until bright green and slightly soft, stirring frequently, about 5 minutes.
Add the tomatoes, chicken broth, and spices.  Stir well and bring to a simmer.  Cover and reduce heat to medium low. Simmer for 15 minutes.
After 5 minutes, pat the scallops dry with paper towels.  Sprinkle both flat sides lightly with flour, pepper and sea salt.  Melt the butter in a large skillet over medium high heat.  Lay the scallops in the hot skillet, flat side down.  Cook for 2-3 minutes each side until nicely browned.
Divide the Brussels sprouts and tomato sauce between two bowls, topping with the scallops. Serve with a few slices of good, crusty bread.
3 Responses to " Braised Brussels Sprouts With Tomatoes and Scallops "
Really need to try thIs recipe. Have read so many rave reviews about Brussels sprouts but still have 6 year old mindset. Love your picture.

this sounds so good! ive always loved brussel sprouts and recently tried blanching them and that brought my love for both blanching and brussel sprouts to a whole new level

Bria, this looks freaking delicious.