Wed 3 Feb 2010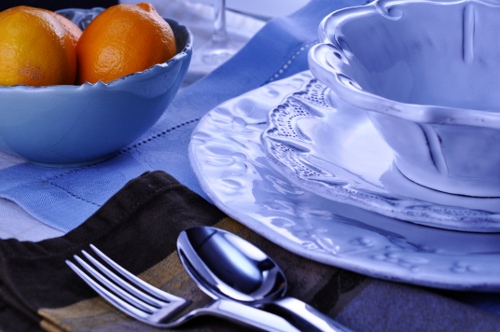 Is there anything more effervescently exciting to send out into the world than an invitation? Regardless of the event, I find a certain kind of lime green, spine-buzzing energy every time I nudge one out for consideration.  By saying to your recipients here, come share this with me, you open a piece of yourself to them and wordlessly communicate your (hopefully) very best intentions.  It's a magical practice and I hope I never tire of it.
So I am very, very excited to invite you today to join me for the coming year in the Salty Spoon Challenge.  Each month, I will pose a new kitchen challenge that is designed to help you adopt the basic habit of cooking for yourself.  We will start small and build from there.  The challenges will be cumulative; part of each month's new challenge will be to maintain the goals of the preceding challenges, unless otherwise indicated.  We'll do this for a year.  You can join any time.  You can quit any time.  All you have to do is try.  The challenges are open to anyone and everyone, regardless of experience.  The point here is not to follow a specific learn-to-cook curriculum, but rather to increase your skills and comfort in the kitchen by challenging yourself with one new parameter a month.  As we work through the challenges, we'll think critically about how and what we feed ourselves.  At the end of a year, we'll have made incremental but meaningful changes to our approach to our food.
The challenges will begin on (or around) the first day of each month.  There will be a post on the Salty Spoon home page announcing the challenge, and the Salty Spoon Challenge page (links at the top right) will list links to past challenges.  We can discuss ideas, tips, progress, and frustrations in the challenge post for the current month - comments will always stay open.
There are hundreds (thousands?) of food blogs in this vast internet of ours. I am proud to be a part of such a vibrant, expansive community.  In a bout of January reflection, I gave extensive and serious consideration to what exactly I want to bring to this landscape.  I thought about why I started The Salty Spoon in the first place: to help inspire other busy people to get in their kitchens and start cooking.  I thought about how I felt about cooking when I was living in my first apartment after college.  The thought of preparing the majority of my meals for myself was overwhelming.  I liked to bake, but that was about it.  My arrival at my present state of cooking most of my food at home came gradually, over a period of several years.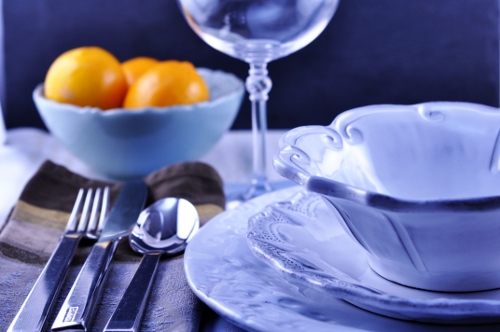 Looking back, I wish I had taken a more purposeful approach from the beginning.  And that's what I've decided to offer you through the Salty Spoon Challenge - a purposeful approach to adopting the habit of cooking for yourself.  Stick with it, and in a year you will find yourself in your kitchen more often, preparing better food, and enjoying it.  We'll get there, I promise.
Let's start with a few guidelines.  First, stay positive.  Cooking is about learning, thinking, experimenting, and indulging.  I do not accept the statement "I can't cook."  If you can read and follow directions with a basic helping of common sense, you can cook.  This isn't about turning out Michelin-worthy covers for 200 dinner guests; it's about feeding yourself good food at home.
Second, be open to new ideas.  We're going to share our experiences with each other here, and we have a lot to learn from each other - myself included.  One of the things I love most about cooking is its essential, communal aspect.  Let's help each other grow as cooks.
Finally, have fun with it.  Push yourself, but don't get bogged down in the details.  There is no shame in simple food as long as it's good food.  Make what you love to eat.  If you aren't an experienced home cook, or you've found yourself in a cooking rut that has left you bored and uninspired, get ready to surprise and delight yourself.  There is an indescribable satisfaction in the ability to think of something you really want to eat, turn to your kitchen, and make it.  Explore, stretch, enjoy.
Are you ready?  Let's cook something.

Challenge 1 - The Beginning
For this month's challenge, think about what you ate for dinner during the past few weeks.  Where did it come from?  How much did you spend?  Was it good?  Could it have been better?  Your first assignment is to increase the number of meals you prepare at home each week by one.  See? I told you we were starting small.  There are, presumably, 21 meals in a week.  As noted above, the challenges will be cumulative; at the end of the year of the Salty Spoon Challenge, you will be cooking at least half of your meals each week at home.  Begin by thinking about what you've been doing recently and add one more home-prepared meal to the mix.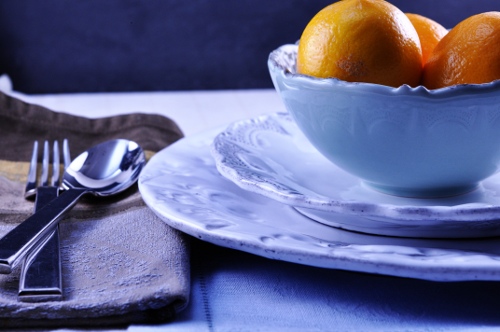 What counts as cooking?  It's up to you, but be honest with yourself.  Throwing one of those frozen bags of vegetables, meat, and seasoning blobs in a skillet doesn't cut it.  Get yourself to the grocery store and buy some real ingredients.  Ideally, I want you to cut it yourself, season it yourself, and cook it yourself.  A simple, balanced lunch or dinner consists of a protein, a starch, and a vegetable.  Beginners, start there.  Stumped for ideas? Let us know in the comments and let's see what shakes out.
Dig in.
13 Responses to " A Very Good Place to Start | Salty Spoon Challenge, Month 1 "
How fun! We do a lot of cooking - most nights of the week, actually. I could be better about breakfast though…most of the time, I just heat up some oatmeal at work.

I'm right there with you, Kim. I've got dinner prep under control, but I know I can do better with breakfast and lunch. I'm going to focus my efforts this month on increasing the number of days per week that I make a lunch at home to take to work. Next month, I'll tackle breakfast - I'd love to eat a real, balanced breakfast every day and ditch my coffee-in-the-car-plus-an-apple-at-work habit.

If you want to take it a step further, how's this: take something you regularly use and buy premade (bread, pasta, tomato sauce, soup, etc.) and make it yourself. Keep me posted!

Ohh … I like your follow up suggestion Bria.

I cook just about every meal I eat in the day (b-fast, lunch (leftovers) and dinner).

I'm going to make the bread I've been wanting to make for some time.

Thanks Walker! There's always more we can do. As the SSC rolls along, it's going to evolve and grow to accommodate various skill levels. It will depend, in part, on what people want, so definitely speak up if you have ideas.

BRIA: YES! BREAD! ON MY HONOR!

Just discovered your blog and I like your philosophy. All of us go through the "why am I blogging?" thing and I feel just like you do; good food for my family. Sadly (for my family) all I really want to do is bake all the time but I do try and put actual meals on the table from time to time

Hey Bria! It's Adrienne, Matt's wife. Just wanted to let you know that I made your cinnamon roll recipe and used King Arthur's bread flour instead of AP, and it made them really fluffy and soft. Hope you're doing great!

I'll be making my bread for V-Day dinner with the wifey.

going with a garlic confit rosemary boule.

Fantastic - keep us updated on the results!

Here's to breakfast…

I know this isn't everybody's cup of milk, but I cook my breakfast everyday because I drink it.

All you need is a Stick-blender, frozen and fresh fruit (the kind you buy and freeze yourself taste way better than the pre-frozen ones), and milk.

Last summer when I was working full time and hit the gym in the morning before work, I actually did this in the office kitchen and people were extremely jealous. It was so easy to do because it creates no mess (you blend the ingredients in the cup you use for drinking).

The trick is to find a good balance of fruits that you like, but that also have enough starch in them to make the shake thick (I do everything with bananas).

And also straws - a fruit shake from a straw tastes way better.

Aha, Noam, you've given me the push I need to go buy a hand blender. Do you have any recommendations about brand/model? I know nothing about them.

Your breakfast solution is fab - very easy, very healthy, very fast. I think it's tempting to buy into the idea that cooking for yourself implies complicated, time-consuming efforts, and it just doesn't have to be that way. As far as I'm concerned, the point is just to make your own food. If you have a way to make that happen quickly and easily? Awesome. Some of my very favorite things to make are ridiculously simple, and most of my weeknight cooking goes from fridge to stove to table in under 40 minutes. It's a necessity of my schedule - I leave work around 7/7:30 most nights.

I completely agree about straws and fruit shakes. Much better with a straw.

Hand blenders are awesome - I've had one for years - originally for soups. It makes blending ingredients in soups so much easier when you don't have to pour the boiling ingredients from the pot into a standard blender.

I personally own a Braun. It has been going strong for five years with basically daily use. Make sure you get the type in which the entire bottom part is metallic - I've seen blenders with plastic shafts break.

Also, get one that is just a blender, I have one with a bunch of attachments and I hardly use them (if I had room in my tiny kitchen for a food-processor I wouldn't use them at all).