Wed 27 Jan 2010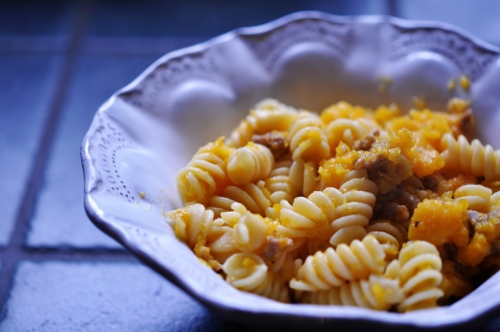 On January 2, 2010, I made a colossal mistake. My reason paralyzed by the overwhelming desire to install a cookbook shelf in my kitchen, I ventured out to the Pottery Barn in Pasadena. Inside, I found myself surrounded by a scene that bore marked resemblance to my idea of hell. Noisy, crowded, lots of wicker, people wandering about willy nilly as though the world ended at their elbows. It was a mad house. The only thing missing was a continuous loop of Sandra Lee screeching DELICIOUS! while making things out of cheez whiz.
I made it out alive, shelf in hand, steadfastly recommitted to my disdain for shopping. I like buying stuff, just not the process of actually going and doing it. As a consequence I tend to stick with things that I already know work. Cosmetics are the sole exception to this rule, as I am a complete sucker for new and different products (if it promises to airbrush my skin, I'm a goner). My makeup collection has, in fact, been accused of having its own luggage. I can neither confirm nor deny the truth of that statement, though I can wholeheartedly endorse the concept of a well-made train case.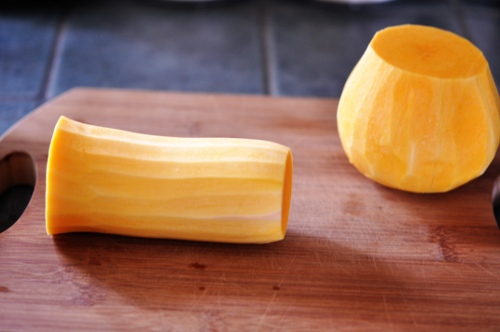 Eyeshadow aside, I am a product loyalist. My favorite work pants? I have three, identical pairs. The same goes for sweaters, t-shirts, hoodies, blouses, etc. If it fits, I'll buy several. Likewise with food staples. My tenacity for buying bulk multiples of my trusty favorites is dampened only by the storage failings of our house (note to future home buyers: there is no such thing as too much storage, there is no such thing as too much storage, there is no such…eh, you'll figure it out someday).
One of my very favorite protein staples is turkey Italian sausage. I try to keep at least one package each of sweet and hot varieties in our fridge or freezer at all times. Lean and full of flavor, I get a lot of bang for my caloric buck out of a link or two. They bring a tempered saltiness to dishes without overpowering them like pork sausage sometimes does. Mostly, though, I adore the satisfying richness of their lean fat content; just enough to sate the mind and belly, but nothing more.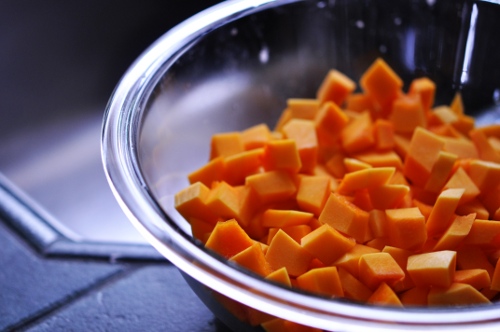 Because I keep turkey Italian sausage more readily on hand than I do pancetta or bacon, I swap them when it makes sense. When I read the following recipe, which calls for pancetta, I had a hunch that my turkey sausages would fill in handsomely. And they did. Thankfully, I have more in the freezer.
What are your favorite food staples?
Rotini with Butternut Squash and Italian Sausage
Adapted from Thirty Minute Pasta by Giuliano Hazan (as posted here)
Serves 6

Ingredients
2 T olive oil
1 medium shallot, diced (or one lobe of a large shallot)
2 links sweet Italian sausage (hot or sweet)
1 small butternut squash, peeled, seeded and diced into ½" cubes
1 cup low sodium chicken broth
Salt and pepper
1 lb rotini (or other small, shaped pasta)
¼ cup grated pecorino or parmesan cheese
Rundown
Cook the shallots
Add the sausage
Add the squash and chicken broth
over
Cook the pasta
Smash the squash, cheese and sausage into sauce
Toss with the pasta
Method
Fill a large pot with 4 quarts of water and bring to a boil. While the water heats, place the oil in a medium skillet over medium-high heat until it shimmers. Add the diced shallot and cook until soft and fragrant, about 30 seconds.
Squeeze the sausages out of their casings and into the skillet. Break them into small pieces with a spatula as they cook, stirring frequently to brown all sides. Stir in the squash and add the chicken broth. Season lightly with salt and pepper, cover, and simmer for 8-10 minutes. The squash will mash easily with a fork when it's done.
Once the water boils, stir in a tablespoon of salt before adding the pasta. Cook until al dente and drain, saving ½ cup of the pasta water.
When the squash has fully cooked, remove from the heat and uncover. Use a fork to thoroughly mash the squash against the pan until a thick sauce forms. If it's too thick, stir in the reserved pasta water a few tablespoons at a time until you reach a suitable consistency. Stir in the grated cheese and toss with the drained pasta to combine.
6 Responses to " Old Faithful | Rotini with Butternut Squash and Italian Sausage "
Oh Bria, I want to make this immediately!

I will be making this tomorrow (we've already started dinner for tonight)! Also, I am a HUGE fan of buying multiples and do this with everything - from sheets to moisturizer to Kombucha to my favorite organic beef that Costco carries. Loved this post

Your pasta dish sounds delicious!

As for my favorite food, I don't consider I have one because I love so many. And I love to try new food too

Stephanie - isn't it addictive to buy in duplicate? I pack that way, too, unfortunately. What can I say, I like knowing I have backup

Karine - thanks! I agree - picking a single favorite food is too tough. There are several things I like to keep on hand so I can make a lot of different faves. My pantry sometimes reminds me of Units (am I dating myself by bringing up the knitwear wonder of the 80s? I loved that stuff).

I have a panic attack whenever I enter Pottery Barn.I think I get overwhelmed by all the ways I could decorate my home.