Fri 12 Feb 2010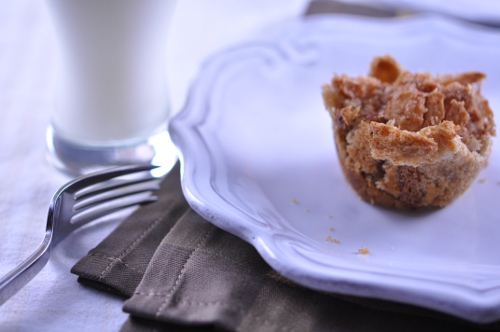 Can we talk for a moment about the irresistible scent that apples and cinnamon drape across a kitchen as they cook together? It's unbeatable. The sweet, tart brightness of a good apple and the nose-tingling cha-cha-cha of potent cinnamon cradle each other carefully, gently.  I can understand why Glade and its ilk are constantly trying to make scents that go by the name apples and cinnamon, though we all know they are, in fact, kidding themselves.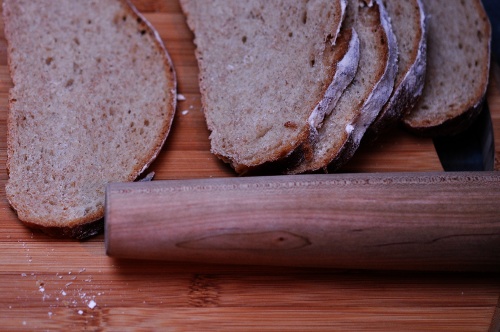 I used to make myself the most ridiculously pared-down versions of an apple crisp as afternoon snacks in law school.  No measuring, just a heap of apple slices, oatmeal, brown sugar, cinnamon and butter in a little dish in the microwave.  It's especially silly for me to call them apple crisps, because there was nothing crisp about them.  Just sweet, soggy oats and squishy apples.  Apple soggies.  But the smell, oh, the smell. Once, when my apartment was being shown to a prospective tenant for the following year, I managed to time one of these little bowls to come out of the microwave just as the landlord was knocking on the door.  The prospective tenant ended up not taking the apartment, but I think she seriously contemplated asking if she could come back for a snack the next day.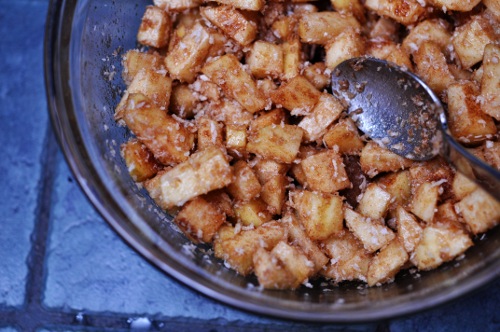 My little apple soggies weren't perfect, but they fit a special kind of dessert bill.  They were quick, delicious, and brought a minimal assault against any ideas I might have had about eating healthfully.  Since then, I have graduated to the glorious realm of the diminutive apple brown betty.  I love their simplicity.  Nothing too fancy or trussed up, just lightly seasoned apples in a crisp, buttery crust.  You can take them from pantry to oven in less than 15 minutes (depending on your apple peeling skills).  Best of all, they will fill your kitchen and any adjoining rooms with that tremendous apple cinnamon scent.  Use your best cinnamon, a few good apples, and you'll be in business.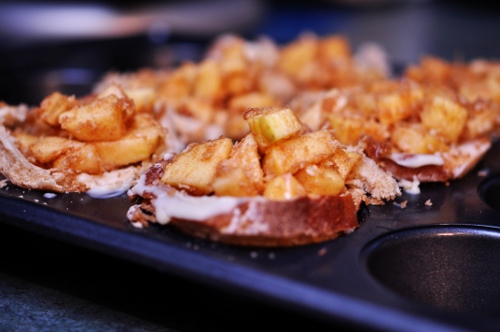 Baby Brown Bettys
Makes 6 small bettys
Adapted from Gourmet, April 2009
Ingredients
6 T butter, melted
1 t granulated sugar
6 slices wheat sandwich bread
2 Gala or Fuji apples
1/3 cup light brown sugar, packed
½ t cinnamon
½ cup panko
Rundown
Butter the muffin tin
Flatten and butter the bread
Press into the tin
Toss diced apples with spices and panko
Heap into cups
Bake – covered, then uncovered

Method
Preheat the oven to 350. Brush 6 wells of a muffin tin with melted butter and sprinkle with the granulated sugar.
Using a rolling pin, flatten the slices of bread.  You may find it easier if you remove some or all of the crusts first.  Brush both sides of each slice with melted butter.  Carefully press each slice into a buttered muffin well.  If the bread tears, don't fret; just keep pressing until you have 6 bread-lined muffin wells.
Peel and chop the apples into ½" pieces.  Stir together with the brown sugar and cinnamon until all of the pieces are nicely coated.  Stir in the panko and remaining melted butter until well combined.  Spoon the apple mixture into the prepared bread cups, pressing with the back of a spoon until the filling is densely packed.  You may have leftover filling – if so, just set aside until your bettys are doing their thing in the oven and you have time to eat it straight from the bowl while you lay back on the couch and watch reruns of Pawn Stars.  Or something.
Cover the muffin tin with foil and bake for 30 minutes.  Remove the foil and bake for an additional 20 minutes.  Let the bettys stand for a few minutes before carefully lifting out of the pan with a fork.  They are stunningly good when eaten while hot, tremendous lukewarm, and handsomely scrumptious when stone cold.  Nestle them next to a scoop of ice cream? Sure.  Top with a dollop of whipped cream? You bet.  In sum, I can't imagine a way you could serve them that wouldn't be delightful.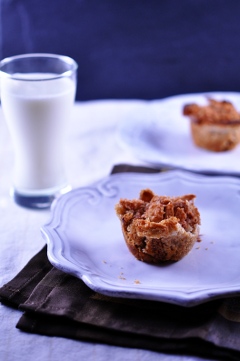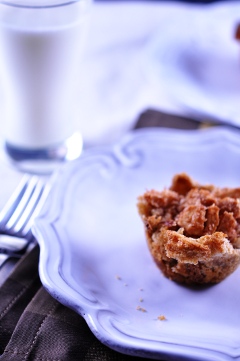 3 Responses to " Heaven Scent | Baby Brown Bettys "
They look delicious! Did you use a mini muffin tin? They are so dainty and cute.

Thanks! I used a regular muffin tin - they came out about the size of a tennis ball.

I am taking a "colonial treat" to my son's class, so my 1st question is can i use cupcake paperwrappers? 2nd question can I use mini cupcake pans? 3rd question do you have something like this for a fruit cobbler please contact me via E-mail Thank you