Wed 20 Jan 2010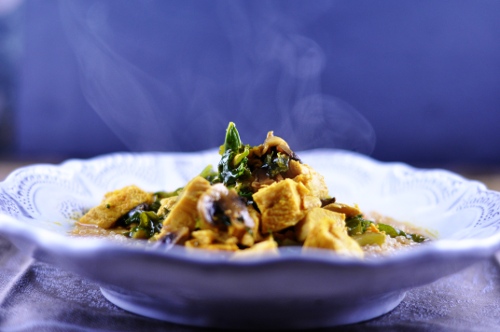 Have you heard? It's raining in LA.  I am sure my readers in Canada and New York and Chicago and Utah and Montana and Michigan and… everywhere else outside California, with real, snowy winters of your own, may not consider several consecutive days of rain in Southern California to be newsworthy, but around here it's quite the story.  In a land where "winter" is marked by blooming camelias and perpetual tans, a bit of a drizzle on the Golden Globes' red carpet is practically unthinkable.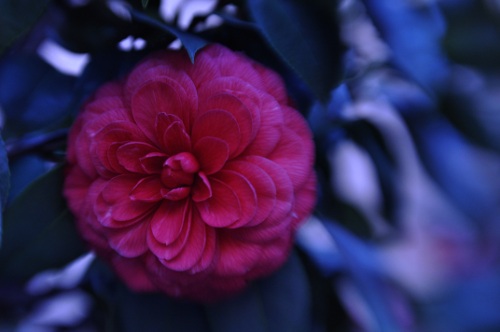 I miss seasons.  When our rain finally comes, I revel in it.  The towering eucalyptus trees across the street broadcast their mossy, lilting scent over our house whenever a gust of wind wafts through their rainsoaked branches.  As I climb the stairs to our front door on a rainy night, I marvel at the scent, thinking this is what every candle and fabric softener has tried to mimic with fragrance names like eucalyptus rain.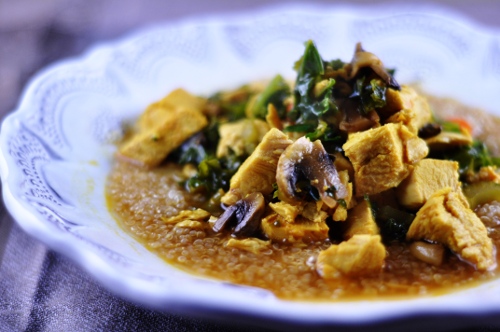 Evenings this week have been chilly and damp as the storms wax and wane.  It's perfect weather for a bowl full of something rich and spicy.  The kind of thing you'd describe as rib-sticking.  I've been particularly enamored with quinoa recently, and find it to be a lovely base for this quick, spicy chicken stew.  You might not use all the quinoa you'll make here – toss leftovers with the ingredients for a chickpea salad for a profoundly filling lunch.  Serve the stew with extra sriracha to keep your ribs warm as you watch your snow, your rain, or your camelias.

Spicy Chicken & Quinoa Stew
Serves 4
Ingredients
2 boneless skinless chicken breasts
6 cups low sodium chicken broth (or chicken stock), divided
2 cups water
1 cup uncooked quinoa
3 bay leaves
½ white onion, roughly chopped
1 T raw ginger, minced
2 T sesame oil
2 T rice vinegar
2 T soy sauce
1 T brown sugar
1 hearty squirt sriracha
1 t turmeric
1 carrot, sliced into thin disks
1 stalk celery, diced
4 medium white mushrooms, chopped
2 leaves kale, washed and roughly chopped
Rundown
Poach the chicken
Cook the quinoa
Cook the vegetables until soft
Add the spices
Add the chicken and broth
Simmer until ready to serve
Method
Bring the water and 2 cups of chicken broth to a simmer.  Add the chicken breasts, bay leaves, ginger, and onion.  Cover with parchment and simmer 12 minutes, skimming the business that floats to the surface after the first minute.  Transfer the chicken to a plate to cool.
While the chicken is simmering, bring 2 more cups of chicken broth to a boil over high heat in a clean saucepan.  Add the quinoa, stir, and cover.  Reduce to medium-low heat and simmer 12 minutes or until the liquid is primarily absorbed. Remove from heat, keeping the lid intact, and set aside.
Using two forks, shred the chicken into small pieces. If you prefer, you can chop the chicken with a chef's knife or kitchen shears.  Whatever you choose, make sure you have something resembling bite-sized pieces.  Set aside.
Heat the sesame oil in a medium dutch oven (or other heavy pot with a lid that will hold everything) over medium-high heat.  Add the carrots, celery, and mushrooms and cook 3 minutes until slightly softened. Stir the rice vinegar, soy sauce, brown sugar, sriracha and turmeric together in a small bowl before adding to the vegetables.  Stir to combine.  Add the chicken and remaining vegetable broth and bring to a simmer. Reduce heat to medium-low and add the kale. Cover, and cook for at least 5 minutes until the kale is nicely wilted.  If you are starting your quinoa late (or just need a little extra time), reduce the heat to low and keep covered until you are ready to serve in bowls, over a bed of quinoa.
7 Responses to " Down Came the Rain | Spicy Chicken & Quinoa Stew "
We were there last week and thankfully had beautiful weather. I hope the rain clears for you soon.

Wasn't last week beautiful? I've heard we're supposed to see blue skies again by the weekend.

wow! I love the steam you captured in your pictures! And YES I do love Vietri! That was really the only thing I cared about in our wedding registry

Just discovered your blog and already have my eye on two recipes I want to make — this definitely makes the short list!

Coco - the steam was a happy byproduct of taking pictures when the food was REALLY hot. I was stunned it turned out! Do you have any of the Vietri serving dishes? I love them all.

Sarah - thank you, and welcome!

This looks fantastic! Quinoa is so wonderful, and chicken seems the perfect partner. Lovely shot, with the steam a'rising!

Sarah - welcome! Enjoy the stew and keep in touch.

Molly - I completely agree about quinoa. It's such a wonder food. I've been enjoying it for breakfast recently with a little brown sugar and cinnamon. By the way, if any of you have been living your life without the amazingly potent goodness of Vietnamese cinnamon, fix that as soon as possible. If you smell them side by side, you'll see there's no comparison. Amazing stuff.