Sat 4 Jul 2009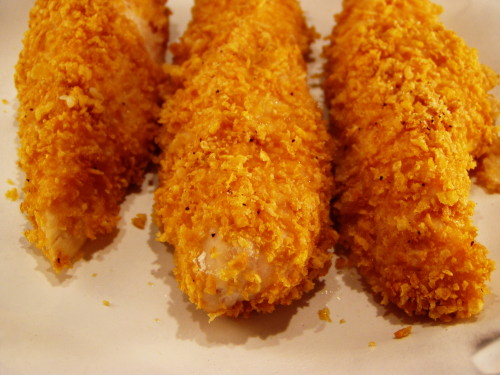 I'm sorry to say that I've never had a fried Snickers bar.  Among the many inconveniences that come with my peanut allergy, I think the inability to eat something so uniformly described as "AWESOME" pretty much tops the list.  That, and the awkwardness that ensues whenever I realize food someone has just given me is peanut-laden only after getting it in my mouth.  There just isn't much you can do to make spitting something out in your napkin look graceful or well-mannered.  Nor does the subsequent surreptitious wiping of one's tongue with the same napkin ever achieve a quality you might associate with good upbringing.
So I can't eat a fried Snickers bar.  Still, I'm tickled by the idea.  The increasing prevalence of Fry Daddies and the like isn't helping anyone's waistline, but it has fostered a hilarious environment wherein every eureka-like declaration of WE SHOULD FRY THIS is met with a hearty YEP!
I don't own a Fry Daddy – I figure anything I do to make it more convenient to deep fry my food is probably a bad thing.  That's not to say that I don't occasionally fill a Dutch oven with oil and bang out some onion rings, but it's just enough hassle this way to keep my love of fried bits in line.
Skillet frying is less cumbersome and less dangerous than full-throttle deep frying, but it's still an absolute mess, both for your kitchen and for your insides.  Fried chicken, the best-known hero of the skillet frying world, is one of those favorites that I find myself making less and less frequently as I get, um, older.  If you had told 22-year-old Bria that she would find herself looking for baked alternatives to her favorite fried foods within the decade, she would have laughed and turned back to her experiments with fried cookie dough (verdict: not as good as it sounds like it should be).  And yet, here I am, giving you my recipe for totally fake fried chicken.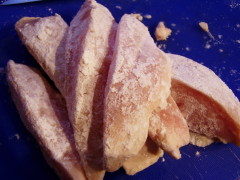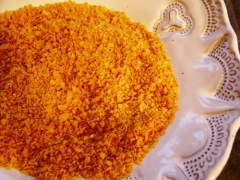 It has all the same elements on the front end – dry layer, wet layer, dry layer.  The cornflakes are so crunchtastically heroic that they don't need any help from hot oil in creating a satisfying, crisp exterior.  The oil is kept to an absolute minimum – just what you need to keep things from sticking to the baking dish.  Plus, you don't have to stand over the stove, babysitting a sputtering skillet. There's no need to turn the pieces or check in as they cook; just pop the dish in the oven and go about cleaning up the kitchen or readying the rest of dinner.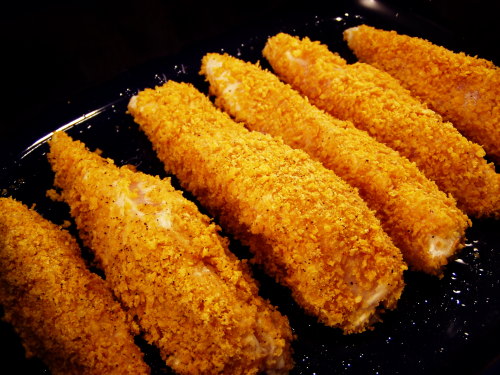 You should be able to have the chicken nearly ready in the time it takes the oven to heat up, making this a handy entree with the requisite speed for weeknight dining prep.  Pick up a few packs of boneless, skinless chicken breasts whenever you find them on sale and wrap them individually in plastic for easy freezing/defrosting.  As noted, this recipe can be easily multiplied to suit your needs, though I would always err on the side of having more crushed cornflakes than you need so you don't end up with extra milk-dredged chicken pieces.  Leftovers will reheat better in the oven than the microwave.
Oven-Fried Chicken
Serves 2, doubles easily
Ingredients
8 oz boneless, skinless chicken breasts
¾ cup cornflakes, crushed (see below)
½ cup (approx) milk
½ cup AP flour
Pinch of cayenne pepper
Salt and black pepper to taste
Vegetable oil
Rundown
Rinse and dry the chicken
Crush the cornflakes
Dredge the chicken in flour, then milk, then cornflakes
Bake
---
Preheat the oven to 365 and spray a medium-sized baking dish with vegetable oil.  The dish just needs to be big enough for you to lay the chicken flat in a single layer with no overlap.  Rinse the chicken and pat dry with paper towels.  Slice it into even pieces (or not, though it will cook faster if the pieces are smaller).  I usually go with large strips, because the 9-year-old in me never stopped loving chicken fingers.
Prepare the cornflakes by putting them in a large freezer bag and crushing with a rolling pin.  Alternatively, you can put the freezer bag between two cutting boards and smoosh it a few times until everything is properly crushed.
Create a little chicken assembly line by filling three separate bowls with the flour, milk, and cornflakes, respectively.  Add the cayenne and a little salt and pepper to the cornflakes, stirring to blend.  Begin by rolling a few of the chicken pieces in the flour until thoroughly dredged.  Next, dip them in the milk, then roll in the cornflakes.  You may need to pat the cornflakes on a bit until the outside of each piece is totally covered.  Transfer each completed piece of chicken to the prepared baking dish.  Repeat with the remaining chicken until everything is well-coated.  You may find it helpful to rinse your hands between each batch as your fingers will also develop a cornflake crust.
Bake for 20 minutes.  The crust will not get markedly more golden, so test for doneness by stabbing one of the chicken pieces with a fork and checking to see if the juice runs clear.  If you are not convinced, slice into the middle of a piece and see if any pink remains.
Serve immediately with your condiment/dipping sauce of choice.
2 Responses to " Good Ideas Gone A-fry | Oven-Fried Chicken "
Fried snickers are OK but have you ever eaten a fried pickle? now THOSE are the bomb

Fried pickles are one of my absolute favorites. I got hooked one them at Katz's Deli in Houston and never looked back!