Sun 14 Jun 2009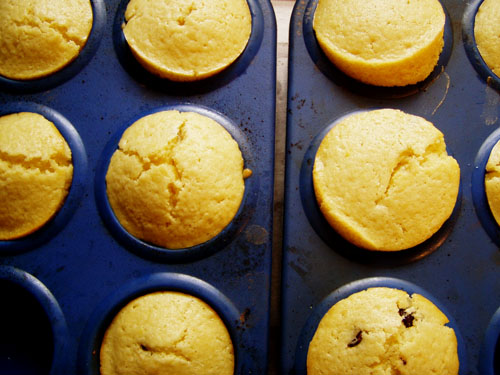 Happiness. adj. The occasional combination of (i) a pot of coffee, (ii) a plate of simple muffins, and (iii) a Saturday morning.
Lovelies, I have just revealed to you my inner sloth. Left to my own devices and otherwise unencumbered by other obligations, I can stretch a batch of muffins and a pot of coffee well into early afternoon as I faff about watching Bravo. But I'm persnickety. Not just any muffin will do. It has to be fresh, and it has to be simple. No overdressed Starbucks monstrosities or cupcakes slumming it without their frosting; a triple-chocolate, wrapper-wearing something or other is not my Saturday style.
You'll find a ziptillion muffin mixes in the baking aisle of your grocery store. Please walk on by. Two bowls, a muffin tin, and a few ingredients are all that separate you from one of breakfast's basic beauties. They are tremendously simple and very much worth the modicum of extra effort.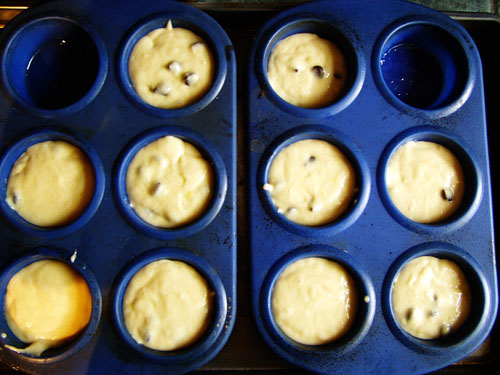 If chocolate chips aren't your thing, add a handful of chopped pecans or dried cherries. If you really want to get snazzy, spoon a large dollop into each well of your muffin tin, add a small spoonful of jam to the center of each dollop, and top with the rest of the batter. The jam will stay put and make for tasty centers.
The underlying recipe comes from Michael Ruhlman's excellent book, Ratio: The Simple Codes Behind the Craft of Everyday Cooking (see link in the sidebar).  You'll notice that the quantities for the flour, sugar, milk, and butter are listed first by weight.  If you have a food scale, use it.  Volume measurements are listed in the parentheses and will also work.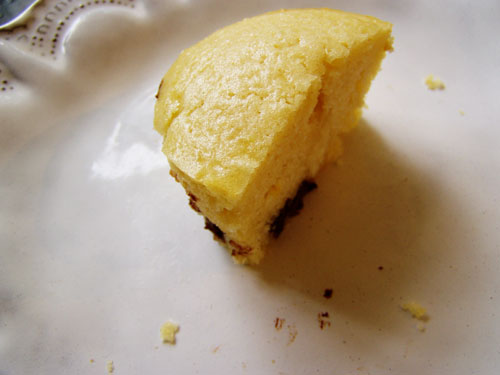 Simple Chocolate Chip Muffins
Makes 10
Ingredients
8 oz flour (1 ¾ cups)
4 oz sugar (2/3 cup)
1 t table salt
2 t baking powder
8 oz milk (1 cup)
2 large eggs
4 oz unsalted butter (1 stick), melted
2/3 cup semisweet chocolate chips
1 t vanilla
1 t lemon zest (optional)
Rundown
Mix dry ingredients
Mix wet ingredients
Add dry to wet
Add chocolate chips
Bake
---
Preheat the oven to 350.
Add the flour, sugar, salt, and baking powder in a medium bowl. Fluff a few times with a fork to combine.
In another bowl, whisk together the eggs, milk, vanilla, and butter. Add the dry ingredients and fold until most of the flour pockets are gone. Add the chocolate chips and continue to gently fold until just combined.
Prepare a muffin tin by either lining the wells with cupcake wrappers or greasing the bottoms with a spritz of canola oil. Spoon the batter evenly among 10 wells – the easiest way to distribute the batter evenly is to start with a big spoonful in each one, then go back and even them up.
Bake for 30 minutes. When they are done, a knife inserted in the center of a muffin will come out clean. If you used wrappers, tip the muffins out onto a cooling rack and allow to cool slightly before diving in. If your muffin sides are bare, run the blade of a butter knife around the sides of each muffin to gently loosen before tipping them out onto a cooling rack.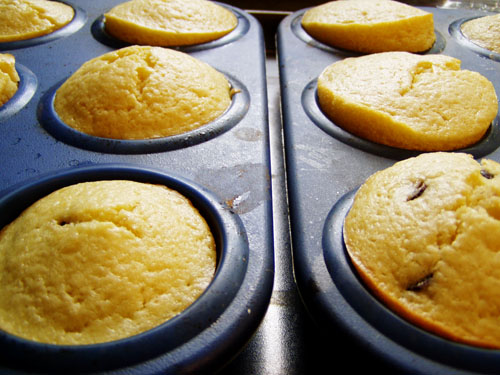 10 Responses to " 'Tis a Gift | Simple Chocolate Chip Muffins "
These look delish, and so simple!

I just made these. I split the batter in half and added blueberries and the lemon zest to half and chocolate chips to the other half. Both were great! Thanks so much for the recipe! I really love your website.

Fantastic, Jennifer! That's such a good idea to split the batter. You can really take a basic batter like this and dress it up a million different ways.

If you ever find that blueberries get too soggy in muffins, it works really well to take dried blueberries and reconstitute them for 5 minutes in hot water. Drain them, then stir into the batter as you normally would. I do the same with dried cranberries and dried cherries, too.

Hola! I've been following your website for a while now and finally got the bravery to go ahead and give you a shout out from Kingwood Tx! Just wanted to tell you keep up the good work!

Todos los días, desde que te sigo ,abro tu blog y me entusiasmo una y otra vez con las fotos que nos dejas ,…quizás hoy con mas motivo pues me siento muy identificada con el estilo de esta diseñadora,a la que no conocía y gracias a ti he descubierto.Me encantan sus accesorios de estilo romántico,sus cojines ,sus corazones ,incluso sus papeleras son realmente deliciosas.Muchísimas gracias por el enlace y por tu comentario hacia mí,eres muy detallista de verdad.Un abrazo enorme y feliz fin de semana.

It's difficult to get experienced people with this subject,
however, you seem like do you know what you're talking
about! Thanks

I have to thank you for the efforts you've devote penning this site.
I'm hoping to examine the identical high-grade content on your part down the road too.

Actually, your creative writing abilities has motivated
me to acquire my very own blog now

Amazing issues here. I am very satisfied to see your article.
Thank you a lot and I am having a look forward to contact you.
Will you please drop me a e-mail?
Trackbacks & Pingbacks:
[...] is a link to the recipe.