Wed 10 Jun 2009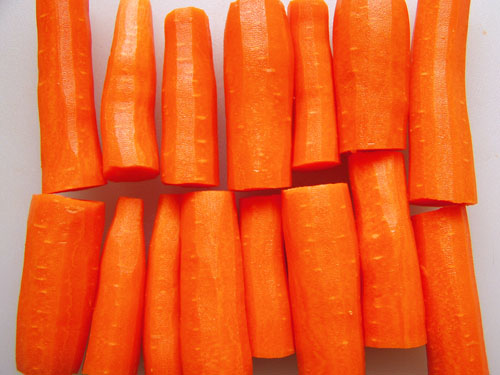 When was the last time you gave more than a fleeting thought to carrots?  They seem so rooted in the province of lunchbag snackery that I sometimes forget the many ways they can be gussied up for dinner.  That's the danger of being a perfectly delicious raw vegetable.  Who wants to bother dressing you in a cocktail dress with you when you can carry the show in your street clothes?
I also don't care keenly for making carrots sweeter, though that seems to be a common tendency.  Glazed carrots can be very lovely, but I want to eat them about as often as I want to watch Sleepless in Seattle (and for the same reason: too cloying for regular consumption).  Carrots are, in fact, the Meg Ryan of the vegetable world – spunky, pretty, predictably sweet, and generally inoffensive – and while I might not want to partake on a daily basis, it's silly to shut them out completely over a single role I find difficult to swallow.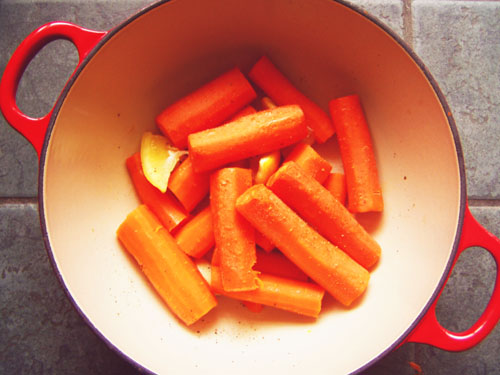 Here are two variations on the same theme – carrots flavored gently with citrus and herbs by boiling them until slightly squishy.  Do not be alarmed if the second variation smells like old socks while it is cooking.  I promise, it only tastes of carrots.
Once the carrots are done cooking, you can play around with how you serve them.  I enjoyed the first batch both hot (chopped coarsely and splashed with balsamic vinegar) and cold (no frills, just a little additional salt).  For variation 2, I used the early harvest Spanish Arbequina, an artisan-crafted extra virgin olive oil from Olio Nuevo.  Made in Paso Robles, it has a piercingly bright taste that almost seems to vibrate on the tongue.  When tucked among the billowy folds of the smoothly blended carrots, it sings out with effervescent harmony.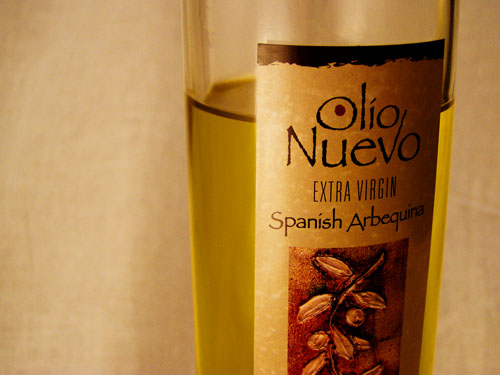 Herbed Carrots, Two Ways
Each batch serves 2 quite generously, or 4 more demurely
Ingredients
Variation 1
4-5 large carrots, peeled
3 cloves of whole garlic, peeled
1/2 lemon, quartered
A few sprigs of fresh parsley and mint, washed
1 T butter
Water to cover
Variation 2
4-5 large carrots, peeled
½ lemon, quartered
Several sprigs of fresh parsley, washed
Water to cover
1 T olive oil
Rundown
Peel and slice the carrots
Toss all ingredients in a saucepan
Bring to a boil
Cook for 10 minutes
Play
---
Slice the carrots into equal pieces, approximately the size of your finger.  Remember, things of relatively equal size will cook at the same speed.  If you can, try to match your carrots a bit and split them so the pieces are approaching uniformity.  It's a good practice whenever you're cooking multiple units of the same thing.
Add the carrots and other ingredients (except the olive oil, if you're making variation 2) to a small saucepan.  Cover and begin cooking over medium-high heat.  Once the water boils, begin timing.  Check the carrots with the tip of a knife after 10 minutes – if they are soft, they're done.
Drain the water and toss the herbs.  Now comes the fun.  I roasted the carrots, lemons, and garlic from variation 1 in a small dish for 12 minutes at 400 degrees.  It brought out the flavor of all three ingredients even further and made for a delicious side dish, both hot and cold.
I tossed the carrots from variation 2 (no lemons, just carrots) into my food processor and blitzed a few times until they were mostly chopped. Next, I added the olive oil at a slow pour – almost a drizzle – through the top of the processor lid while letting it run.  The result?  Tangy, feather-light mashed carrots.  I am sorry to say they only lasted about 5 minutes after I scooped them into a bowl.  In fact, I almost forgot to take a picture and had to intervene with my camera before polishing off the last few bites.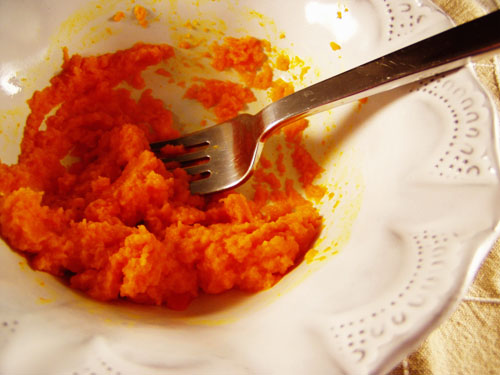 No Responses to " With Apologies to Meg Ryan | Herbed Carrots, Two Ways "