This Wednesday marks the one-year anniversary of the publication of  The Flavor Bible, a book that should hold a prominent place in any curious cook's library.  I've previously mentioned it here and here.
Recipes are lovely, and I can't possible buy or read enough traditional cookbooks in this lifetime.  But there is another side to cooking that I think is just as important for cooks, especially home cooks, to explore.  It's the improvisational side.  The process that starts with a blank slate of a clean kitchen and comes to life with one or two ingredients - something that looked particularly good at the store that week, a memory of a favorite dish, a scene from a movie, a song, a mood.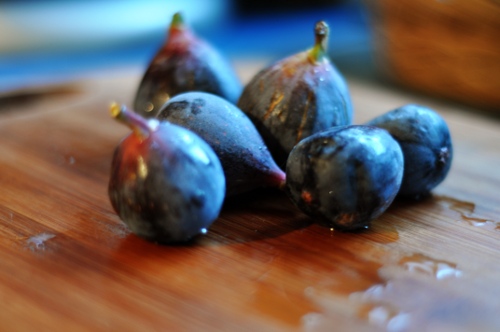 To make something edible out of this process, it's important to have a basic grasp of cooking fundamentals - how to saute, how to poach, how to steam, how to broil, etc.  But it's also critically important to have a way to get your hungry head around the flavors before you begin, lest you waste perfectly good chocolate chip cookies by sullying them with mint (hypothetically, of course).   Authors Karen Page and Andrew Dornenburg help guide this process by providing (though what can only have been a Herculean effort) an index of ingredients and the flavors that best compliment them.  Need a hand figuring out what to do with the basket of figs that called out to you at the farmers' market?  Turn to page 162 and see the 70+ flavors that will best compliment them (personal favorite: goat cheese).
My own improvisational process has benefited greatly from The Flavor Bible, and I'm happy to help Page and Dornenburg celebrate the anniversary of this wonderful text.