Thu 7 May 2009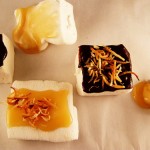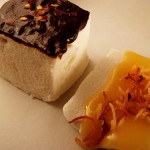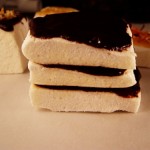 How does a person in her right mind propose covering a marshmallow in more sugar?  It's a valid question.  For starters, I like sweets.  I do.  I have always had a powerful sweet tooth and have been known to eat chocolate chip cookies for dinner when I think I can get away with it.
But this is about more than just achieving sugar nirvana.  A handful of marshmallows or a spoonful of brown sugar gets me there. (Not that I have ever set a spoon on my kitchen counter for the sole purpose of nabbing little spoonfuls of brown sugar every time I pass the jar – not really, not ever.  Or not much.  Rarely, really.  Just once.  Or so.  Anyway.)  This is about taking a strange little canvas and decorating it in the way it deserves.  This is the miniature millinery of dessert.  The chinoiserie wallpaper of a dollhouse living room.  Dress it up, make it fancy.  Put a bow tie on that butterfly.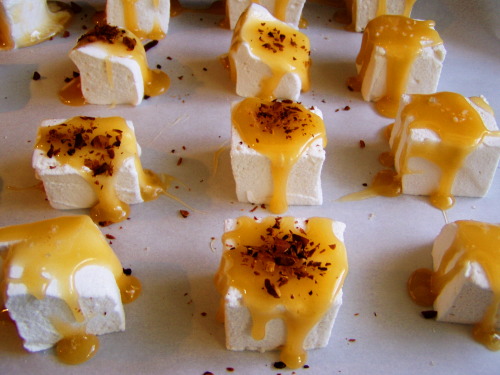 Pairing flavors is always a delicate endeavor.  Some things just go well, some just don't.  The definitive word on flavors today is The Flavor Bible, 2009 winner of the James Beard award and an overall amazing resource for educating yourself about the nature of flavor.  I picked up a copy last week and am astounded by its depth and breadth.
The sweet realm can be particularly challenging – after all, layering sweet taste upon sweet taste upon sweet taste only leaves you wanting a glass of water.  It's more interesting to push, to probe, to stimulate the taste buds in ways that leave your eyebrows raised and spirits elated.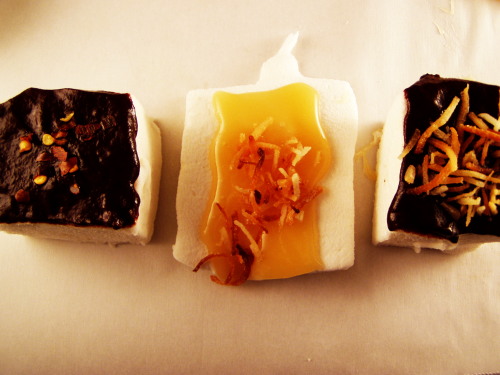 Salt is such a rogue in the sweet realm.  Intuitively, it feels like it wants to be straight-ticket savory.  But the salty-sweet combination can be utterly addictive (chocolate-covered pretzels, anyone?).  The sharp contrast between salty and sweet tastes doesn't foreclose their compatibility.  Likewise with spice and chocolate.  When brought together, they bring out aspects of each other that may not always shine in more homogenous company.  It is their dissonance that plays so harmoniously on the palate.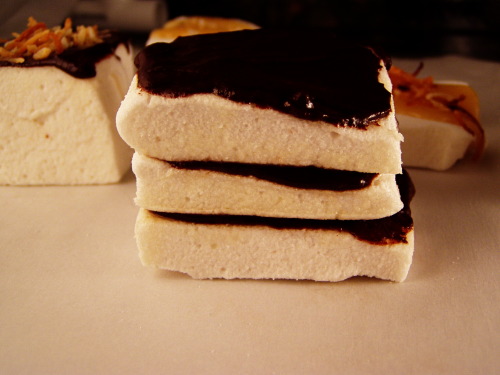 As promised, here are ideas for ways to adorn your marshmallows.  These will work exquisitely with a batch of your own, but will also make a bag of jet-puffed joy shine like Broadway.  Try one with caramel and fleur de sel, or bittersweet chocolate and crushed chili peppers.  See if you don't fall in love.
Caramel
1 cup sugar
1 cup light corn syrup
½ cup heavy cream
¼  cup water
1 T butter
1 t vanilla extract
Pinch of salt
Place the sugar, corn syrup, heavy cream, and water in a heavy saucepan or small dutch oven.  Stir over medium heat until the sugar dissolves.  Stir in the butter and continue to cook until the mixture reads 238 on a candy or instant read thermometer (see notes on candy making technique and safety here).
Remove from the heat and add the vanilla and salt, stirring until fully combined.  Allow the caramel to cool to approximately 160 degrees before testing on a marshmallow.
Chocolate
2/3 cup bittersweet chocolate chips
1/3 cup heavy cream
Place the chocolate chips and heavy cream in a microwave-safe bowl.  Microwave on high for 30 seconds.  Remember, chocolate melts with its own heat, so it won't be completely melted when you pull it out of the microwave.  Gently stir with a spoon or spatula until it's smooth and shiny.
Additional toppings
Toasted coconut (toast your own sweetened, shredded coconut on a parchment-lined cookie sheet for a few minutes at 450 degrees – keep an eye on it as it toasts)
Fleur de sel
Chopped almonds
Crushed chili peppers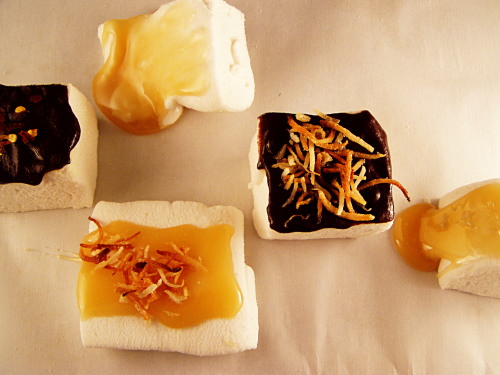 Before dressing your marshmallows, line a few cookie sheets with parchment paper.  Arrange the marshmallows so there's a decent bit of space between them – you'll need a little room to maneuver.
With a small silicon spatula or two, gently drape the chocolate and caramel over each marshmallow.  I did not have great success combining chocolate and caramel on the same marshmallow, but play around with what works for you.  Be sure to press your secondary toppings into the chocolate or caramel while they are still sticky; if you wait until everything is completely cool, the coconut or salt or whatever will fall off as soon as you try to move it.  Conversely, don't put fleur de sel on immediately after dressing with caramel, as it will dissolve with the heat.  Do it at the perfect time, she says maniacally!
I'm kidding.  Just have fun with it and see what you can do.  The worst case scenario is that you end up with something that looks ugly and tastes amazing as you scrape it off the parchment with a spoon. Oh, hold me, I'm nervous.
3 Responses to " Dissonance, Harmony, and More About Love | Marshmallows, Part II "
Urm, that caramel&orange zest topping looks lovely!!

It's actually toasted coconut, though I can imagine that orange zest would be really lovely. I might have to give that a try the next time I do a batch of gussied up marshmallows. Thanks!