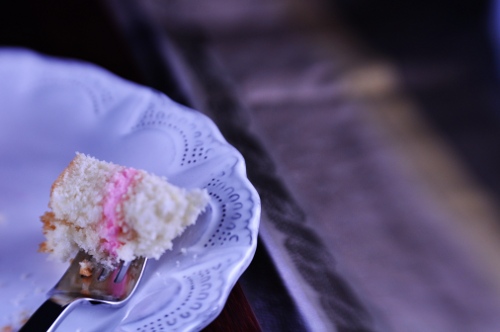 About a year ago, I blew out a candle on a piece of white cake with pink frosting, my standard birthday fare. I made a wish.  I wished that I would have the inspiration, time, and wherewithal over the coming year to figure out a way to bring my writing and cooking together into a big, lovely project.  I wished for a way to begin building an audience of readers with whom I could share my love of food, cooking, and a few stories along the way.  In effect, I wished for all of you.
We have just finished off another white cake with pink frosting.  Why so simple, you ask? Though I like to think of myself as a reasonably seasoned baker, I never go with anything fancy or new or complicated for my own birthday.  The white and pink combination is something I fell in love with when I was very small - somewhere in that post-toddler epoch that finds so many little girls swaddling themselves in billows of pink everything.  I think it also has something to do with having a December birthday.  Once Thanksgiving comes and goes, the default thinking behind every decorated cake seems to begin and end with wintry/Christmas things until February comes along with its shower of red and pink clashiness. Somewhere along the way, I came to prefer a cake that didn't have anything to do with the season.  To me, a stripe of pink frosting between layers of fluffy white cake just screams BIRTHDAY and nothing else.  Though I have been known to take my birthday cake in a chocolate direction (the recipe for which I must share with you soon, because it's a real charmer), more often than not I find myself coming back to my favorite pink and white number.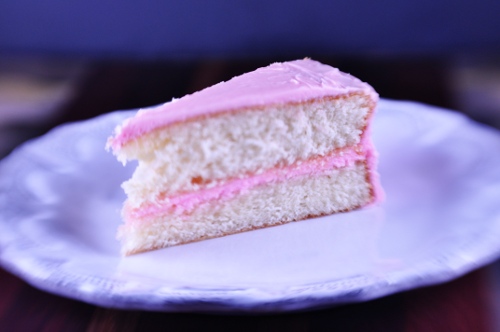 The cake itself is just plain perfect.  Not only does it turn out beautifully every time I make it, you cannot find an easier recipe to execute.  Dump, mix, dump in the eggs, mix again.  I can barely justify a rundown for this one because it's so incredibly simple.  Several years ago I looked and looked for a recipe that would give me a simple white cake with a tiny, moist crumb.  A few mediocre misfires lead me back to the Betty Crocker Cookbook, one of my kitchen's secret weapons.  Straightforward, comprehensive, and full of helpful tables and asides, it is an invaluable resource for understanding cooking basics.  Plus, it's ring-bound, which allows it to lie flat on your counter.  If you are ever looking for a cookbook that can act as a starting place for someone new to cooking, this is it.  My mom gave me a copy when I moved into my first apartment, and I refer to it at least once a week.  My copy is visibly well-loved and some of the pages have acquired dribs and drabs of their recipes, not the least of which is the page facing the recipe for this cake.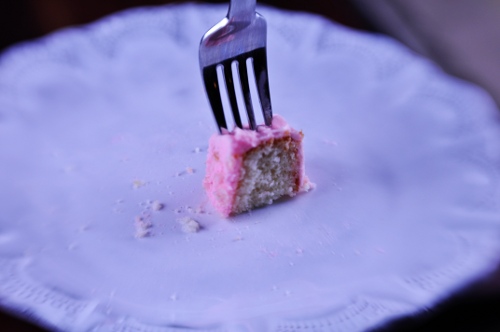 Back to that wish.  Tonight, my lovelies, I want to take a moment to thank you for being a part of this little blog of mine.  Over the past several months I have had the wonderful privilege of sharing my recipes, photos, and ramblings with you.  It has been a pleasure to read your comments, your emails, and share this wonderful journey through our kitchens together - over 7,000 kitchens to-date.  I can't begin to tell you how honored I am to be part of your virtual food milieu.  Your willingness to return week after week is one of the best, most exhilarating gifts I have ever received.  Thank you.
(Keep reading White Birthday Cake…)