Sun 20 Sep 2009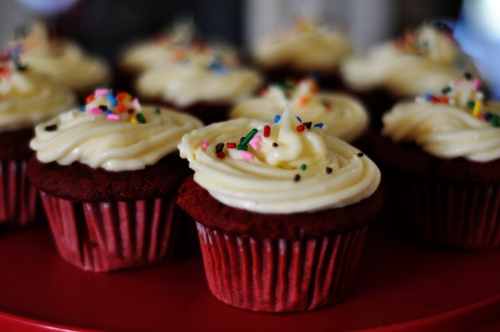 The bakery cupcake phenomenon kind of escapes me. It highlights my fleeting disconnect from people who don't see cooking as Something You Do.  Living in Los Angeles, I'm within each reach of at least a dozen bakeries with beautiful and famous cupcakes…but I've never been to any of them.
My reasons are two-fold. First, the few I've had have been fine, but not great.  It's not that they're bad, exactly, they're just not something I'd go out of my way to track down. Second, I can't fathom paying someone several dollars for a single cupcake when I can make piles and piles of them at home with the staples in my pantry and fridge.
However, I wholeheartedly support the cupcake movement, such as it is.  Tiny cakes that can be dressed and frocked to suit the wildest and mildest palates alike are whimsical genius, in my best opinion.  Cupcakes are simply fun. It has been delightful to see something so fun and so manageable at home become so broadly popular recently.  I only wish I could convince more people to make their own.
Do you want to know the secret to true cupcake perfection?  Take an unfrosted cupcake and slice it in half on its horizontal axis so that you have top and bottom pieces that are of roughly equal thickness.  Next, spread a generous layer of frosting on the bottom layer and set the top layer on top.  Frost the top as you normally would.  Carefully spread a final layer of frosting around the sides and voila, a tiny layer cake for one.  Enjoy with a fork.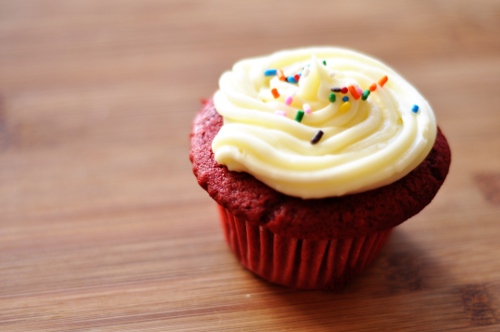 Of course, cupcakes in wrappers are also lovely.  I made these Red Velvet Cupcakes for a friend's birthday a few weeks ago when she told me her list of cake likes include lemon, chocolate, and cream cheese, in no particular order.  Red velvet has experienced a bit of a renaissance in the past two years or so.  No longer a regional staple of Southern birthday parties, it has gained a place in this new canon of cupcake frippery. I think it brilliantly exemplifies the genius of cupcakes. Here is a hyper-pigmented, sugar coma-sweet confection, packaged for one. It's Dolly Parton as a dessert. A perfect platform for its flavor foil, frosting energized by the tangy snap of cream cheese; a perfect symbol for our national sweet tooth.
If you don't have a pastry bag for piping the frosting, don't worry about it. You can do a swell job with a dinner spoon.  Load up the spoon with frosting.  Holding the spoon in one hand and the cupcake in the other, set the spoon down on the center of the cake and rotate the cupcake in one, clean circle so that the frosting sweeps the whole top.  Touch up as needed – you'll end up with a lovely look.

Red Velvet Cupcakes
Makes approximately 18 cupcakes
Adapted from Pinch My Salt
Ingredients
2 ½ cups sifted cake flour (yep – sift it by itself, then sift again with the other dry ingredients)
1 t baking powder
1 t salt
2 T unsweetened cocoa powder
2 oz. red food coloring
½ cup unsalted butter, softened (one stick)
1 1/2 cups sugar
2 eggs, room temperature (warm up in a small bowl of warm water)
1 t vanilla extract
1 cup buttermilk, at room temperature
1 t white vinegar
1 t baking soda
Rundown
Sift the cake flour
Sift the dry ingredients together
Make a paste from cocoa and food coloring
Beat the butter and sugar
Add eggs
Add vanilla and cocoa paste
Alternate adding dry ingredients and buttermilk until combined
Mix the vinegar and baking soda
Add the vinegar mixture to the batter
Measure
Bake
Cool
---
Preheat the oven to 350 degrees.
Sift together the flour, baking powder, and salt into a medium bowl and set aside.  As I noted above, you need to sift the cake flour by itself first, then sift with the rest of the dry ingredients. Cake flour doesn't have the same anti-caking additives as other flours, so it's important to take the time for this step. In a pinch you can use a colander for this part.
Mix the cocoa powder and food coloring together in a very small bowl until you have a smooth paste.  Set aside.
Beat the butter and sugar together in a large bowl (or the bowl of a stand mixer) with an electric mixer at medium-high speed for approximately three minutes, or until light and fluffy.  Add the eggs one at a time, beating well between each addition.  Add the vanilla and the cocoa paste, beating well until fully combined.  Be sure to scrape down the sides of the bowl a few times to fully incorporate the dribs and drabs that climb beyond the beaters' reach.
Add about a third of the dry ingredients, and beat until combined.  Add half the buttermilk and beat again, scraping the sides of the bowl as you go.  Continue alternating between the wet and dry ingredients this way until they are fully incorporated, ending with the last of the dry ingredients.
Combine the vinegar and baking soda in a small bowl and add the mixture to the batter.  Stir well.  Line a muffin tin with cupcake papers.  Using a ladle or an ice cream scoop, fill the cups 2/3 of the way full with batter.  Bake f0r 20 minutes and test with a toothpick. If it comes out clean, they are ready to remove from the oven and cool on wire racks.  If the toothpick comes out dirty, return the cupcakes to the oven in 3-minute intervals, watching them carefully to be sure they don't overcook.  Cool in the tin for 10 minutes before removing the individual cupcakes to cool fully.  Allow at least an hour before frosting – they should be completely cool to the touch or your frosting will melt.
Cream Cheese Frosting
Ingredients
16 oz. cream cheese, softened (2 packages – do not use low-fat or fat-free)
½ cup unsalted butter, softened
1 t vanilla extract
3 cups powdered sugar
Pinch of salt

Rundown
Blend the cream cheese and butter
Slowly blend in remaining ingredient
Blend everything on high until fluffy
---
The cream cheese and butter can easily achieve their requisite softness through an hour on the counter while you make the cupcakes. Be cautious microwaving them if you need to speed up the process – don't let things get runny.
Blend the cream cheese and butter with an electric mixer until they are smooth.  Add the powdered sugar, vanilla extract, and salt and blend on low speed until everything is mostly incorporated.  Crank up the mixer to high speed and continue blending until light and fluffy.  Add additional sugar if you feel the frosting needs to be stiffer, or if you like a sweeter frosting.  Use immediately or refrigerate; if you choose the latter, allow it to come to room temperature on the counter for 15 minutes before blending smooth again.
15 Responses to " National Velvet | Red Velvet Cupcakes "
ok, so could you add a hint of lemon flavor or something else to the cake to give it more zing or would that kill it? I have to make cupcakes for a birthday party this weekend and suddenly your recipe seems much more interesting than buying a box. if you were to modify this, how would you do it?

I'm not sure lemon would complement the cake's flavor that well. You know what would add a fun punch, though? Take some quality bittersweet chocolate and chop it into smallish bits (smaller than regular chocolate chips, but not crushed into dust) and stir them into the batter at the very end, after you add the vinegar and baking soda mixture. The bittersweet will add a rich and earthy bite to each cake without punching up the sweet factor too much. Ordinarily, I like mini chocolate ships for mixing into fluffier batters like this, because they don't sink like regular chips, but I've never been able to find bittersweet minis and I think you want as little extra sugar as possible. Cocoa nibs would also be good. Let me know what you try - I'd love to hear how it turns out.

Unless you go for a box, because then I will cry. Kidding. Sort of.

These cupcakes are adorable. I love cupcakes (I think I've made this abundantly clear), and I always wondered about red velvet…I guess it really is *just* red food coloring!

I have a question about piping with pastry tips. I just bought some, and I used a disposable pastry bag that had been given to me as a gift — do you use Official Pastry Bags (those cloth ones), or disposables, or just a ziplock bag with the corner cut off?

PS - Is there a way for you to enable subscribing to comment responses?

I use Wilton disposable bags - I don't do enough piping for it to be a huge expense, and the cloth bags seems like such a royal bitch to clean. I tried using a Ziplock with the corner cut off, but the plastic is too stretchy and the force of the icing behind the pastry tip is eventually enough to push the tip right out the hole.

On the comments subscribing…I will look into it! It would be great for me, too, as I have never been able to make Wordpress think it's necessary to email me when comments are left (so I end up just checking a few times a day). I'll see what I can do.

Thanks! That's a good tip…I thought about using a store-brand freezer-bag. At least then it would be thicker/stronger? I don't do enough piping for it to be a huge expense either, but it feels like such a waste to spend so much on so little! Then again, I spent $5 on sprinkles, and $10 on new pastry tips so what do I know?

I thought the same thing about using a freezer bag…and ended up with a pastry tip sitting in a big blob of frosting on my otherwise nicely-piped cookie. Oops. Definitely go for the disposable bags - when you feel them, you'll see the difference in the amount of give in the plastic. Happy decorating!

Yeah, they are definitely thicker. Thanks for the tips

Have only made red velvet cake once — these cute things are making me wish I had a bite or ten Oh, and on the cupcake phenom — I don't get it either. I think it's the cute factor? Personally if I can't make something myself, it loses quite a bit of attraction. Don't need the calories.

Interestingly, the 2006 Wilton yearbook featured cupcakes in a prominent way. The yearbooks come out midway through the year prior to their title, so it was published in summer 2005. That corresponds pretty closely to the genesis of the cupcake craze. That's why I predict brownies will be the next big thing - the 2010 catalog is all about taking brownies to the next level.

well i decided that my 3 year old wouldn't appreciate red velvet so i tried to do peanut butter & chocolate cupcakes (from scratch) instead. i baked 4 dozen and burned 2 dozen of them around midnight. so i had to cry and then bite the bullet and break out the old box. then i made chocolate ganache frosting and it didn't set in time for the party so i had to break out the canned frosting. doh! i felt like a total failure. however the gallon of ganache is now set and totally fantastic, guess i'll put some in my morning coffee and freeze the rest.

i tried.

Oh no! I'm so sorry the cupcakes didn't go as planned. You are definitely not a failure. It happens to all of us - one of these days I'm going to write up some of my more memorable kitchen mishaps and post them for you to see. At least the ganache turned out in the end - and there are definitely worse things than having a pile of extra ganache laying around.

yeah i am so digging the ganache but i think the babysitter is convinced i'm totally neurotic as i insist that we scrape the canned frosting & sprinkles off the leftover cupcakes and then spread the ganache and new sprinkles on them (for my 3 year old). it does taste better!

Re: Cupcake batter, can you tell me how much sugar to cream with butter. The sugar is mentioned in the recipe method, but not in the list of ingredients?

Oh goodness, what an oversight. Sorry about that - it's fixed now. A cup and a half. Thanks so much for the catch!