Fri 10 Jul 2009
Cut to the chase and take me to the recipe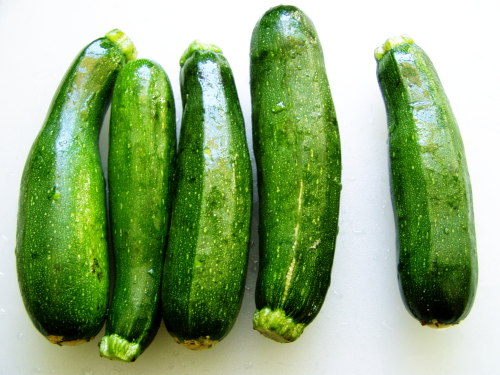 Lately, I've been making my own vegetable stock on the weekends. I'm normally a chicken broth kind of girl – it serves me so well whenever a little extra liquid and extra flavor are needed, and there are several decent varieties for purchase in most grocery stores these days. Yeah, yeah, it's wonderful to make your own chicken stock, but I don't always have time to deal with it, and it's one of those areas where I feel the store-bought version is good enough to justify the shortcut. Sue me.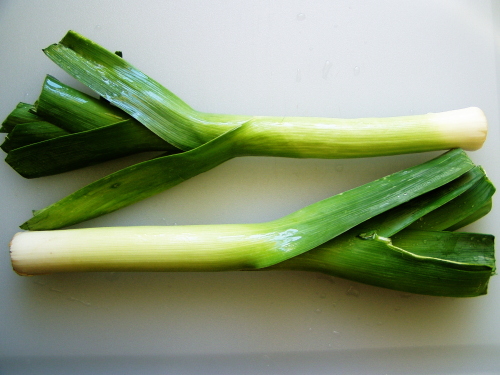 But I've been trying to make more vegetable soups over the past few months, and they aren't always conducive to chicken broth's different melody. Sadly, I have yet to find a prepackaged vegetable broth that didn't taste smurfy. I can't put my finger on what I find specifically objectionable about the taste, but it's just…off. It tastes like something completely wrong swam around in the pot for a bit while the flavors were mingling. A frog? A tuba? A mirepoix of tires and potato peels? Something totally weird.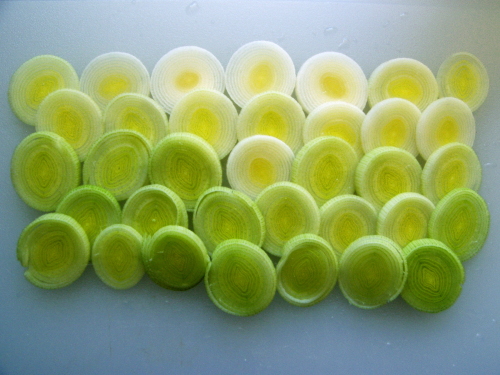 Unlike chicken stock, which really wants several hours to simmer and amuse itself, homemade vegetable stock takes about 90 minutes, including chopping. It's a true ensemble cast, too. Leeks, carrots, mushrooms, fennel, onions, tomatoes – all coordinate themselves together gracefully to produce a smooth, sweet, silky broth. No single element charges to the footlights to demand your attention. It doesn't taste like fennel. It doesn't taste like leeks. It tastes like a beautiful prelude to the fluttery melody that will come with the rest of the ingredients.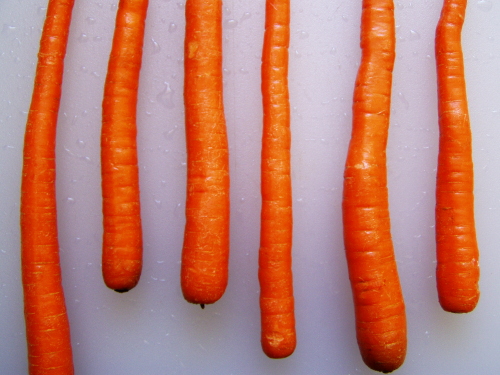 I had a pint of stunning roasted zucchini soup for lunch the other day. The restaurant in my office building has a take-out kiosk on the patio, and I often snag a quick lunch from them when I'm too lazy to pack something in the morning. The food there has gotten markedly better in the past three years, most notably the soups. This little roasted zucchini number was extremely simple – a delicate puree brightened with dill. It's a good thing I like to keep my door closed when I eat at my desk, because nothing about the way I dove into that soup matched the delicacy of its gentle flavors. I scarfed. And promptly added zucchini to my shopping list so that I could make my own.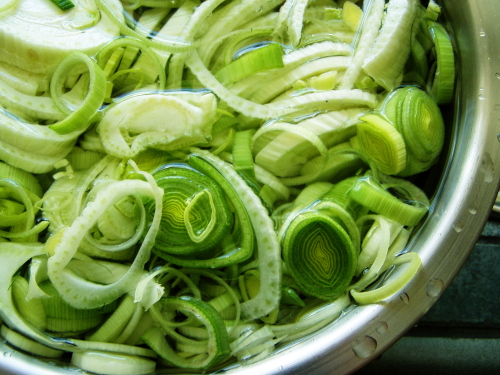 While the homemade stock isn't life-and-death critical here, I really recommend you give it a shot. The stock can simmer while the zucchini roasts, so you aren't adding much time to the whole venture. Let the pot on the stove and the tray in the oven do their thing while you amuse yourself with other stuff and before you know it, you'll have everything ready for the final simmer.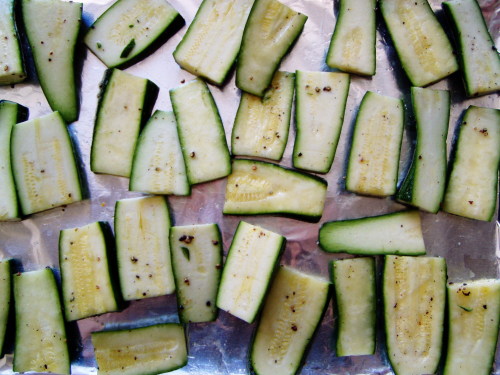 About the color. It's not exactly the most beautiful soup you'll ever see. I know. If you must, take a slurp with your eyes closed. Let it roll over your tongue and warm your belly, and see if it doesn't look ever so much lovelier when you open your eyes again.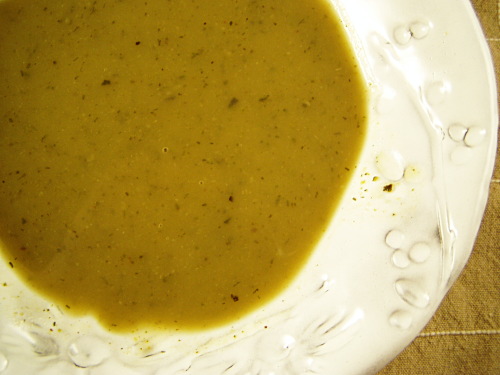 P.S. Like the third photo above? It's called Simple Greens, and if you would be so kind, I would greatly appreciate a "yeah" vote in the Color Theory competition at JPG Magazine. Thanks!

Roasted Zucchini Soup
Makes slightly over 2 quarts – enough for several hearty servings. Freeze what you can't eat in a week.
Ingredients
2 quarts vegetable broth or 1 batch vegetable stock (see below)
1.5 lbs zucchini, preferably very small ones
½ T dill weed
2t sea salt
2 T olive oil
Black pepper
Equipment
Blender
Large pot
Rundown
Slice zucchini
Toss with oil, salt, pepper
Roast zucchini
Simmer
Blend
---
Preheat the oven to 400.
Trim the ends off the zucchini. If you can't find small zucchini, scoop the seeds out before cutting further. Slice lengthwise into strips. You will find it easier to cut lengthwise if you first cut it into sections that are two to three inches long. Toss the strips with the olive oil, 1 teaspoon sea salt, and a bit of freshly ground black pepper until all of the pieces are well-coated.
Arrange the zucchini in a single layer on a foil-lined baking sheet. Roast until crinkly and golden brown on the edges, about 45 minutes.
In a large saucepan or stock pot, combine the broth/stock, zucchini, remaining salt, and dill weed. Bring to a simmer over medium heat, cover, and simmer for 20 minutes. Remove from heat and cool. Puree in batches in a blender until smooth. Season with additional salt if necessary.
---
Vegetable Stock
Adapted from Ratio
Ingredients
2 T canola oil
2 leeks, thinly sliced
2 fennel blubs, thinly sliced
6-8 large white mushrooms, sliced
2 medium yellow onions, sliced
8-10 medium carrots, peeled and sliced into 1" pieces
Small bunch of fresh parsley
Small bunch of fresh thyme
2 bay leaves
4 small tomatoes, sliced into quarters
10 cups cold water
Salt to taste
Equipment
Stock pot
Large bowl
Colander
Cheese cloth
Rundown
Prep the vegetables
Sweat the vegetables
Simmer 1 hour
Strain through colander
Strain through cheesecloth
Season with salt
---
Begin by slicing the leeks and the fennel. Both can be tough to clean, so soak them in a bowl of cold water, agitating a bit, and drain before adding to the rest of the vegetables (you'll see a bunch of grit at the bottom of the bowl when you drain it). Slice the mushrooms, carrots, onions, and tomatoes. Size doesn't matter keenly here, but the smaller you cut, the more flavor you'll get.
Heat the canola oil in a large stock pot over medium heat and add all of the vegetables except the tomatoes. Sweat them for a few minutes, stirring occasionally, until they start to release some moisture and look shiny. Add the water, cover, and bring to a gentle simmer for an hour.
Strain first through the colander into a large bowl. Rinse the stock pot. Dump the vegetables, rinse the colander, and line with the cheesecloth. Holding the lined colander over the rinsed stock pot, strain the soup again. Taste it, adding salt as needed. It's now ready for making into soup.
5 Responses to " Ensemble Cast | Roasted Zucchini Soup "
Thank-you for putting that out there about store-bought vegetable broth - why does it taste so… not quite right? Like they were almost done and thought, wait - earwax! That's what we forgot!

Congratulations for the blog! It`s awesome! You`ve won a "follower" =)

nice article here, Still looking for free best articles, I hope you posted more nice articles again so it will makes some people know better than beforethank you very much!

You are so cool! I do not believe I've read through anything
like that before. So wonderful to discover another person with original thoughts on this topic.
Really.. many thanks for starting this up.

This website is something that's needed on the internet, someone with
a little originality!