Tue 24 Nov 2009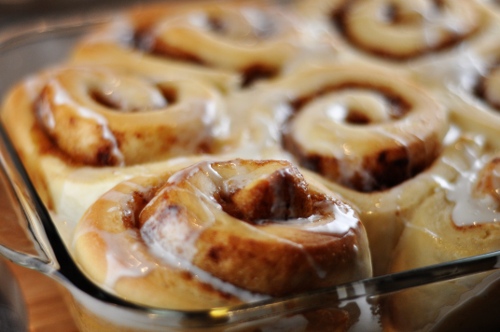 I'm not sure why I decided cinnamon rolls would be my Everest during the three weeks between graduating from college and starting my first real job, but I did. It was one of several projects I took on when faced with twenty empty days (the others being unpacking, sleeping in, and adopting a kitten previously rejected by Satan as being "too evil"). I wanted to find a recipe for really excellent cinnamon rolls. It had to deliver reliable, wonderful rolls every time, the kind of baked treasure that stops people in their tracks, wide-eyed and momentarily overwhelmed, before they exclaim WOW.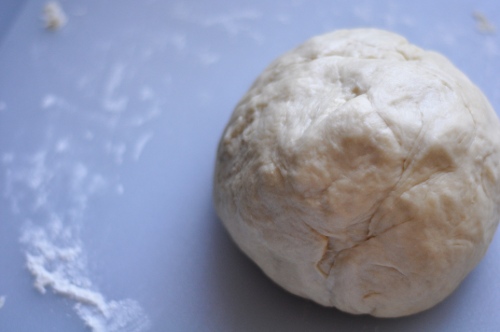 The first three recipes were unremarkable. They were too tough, too sweet, too boring. Something was fatally wrong with each one, and I began to get discouraged. I came upon a fourth recipe. Despite my skepticism, I dove in, pausing to figure out what it meant to scald the milk. The dough was smooth and satiny. It filled my tiny kitchen with a sweet, yeasty penumbra that sent little jolts of hopeful electricity into my dwindling expectations. I briefly lamented my lack of a rolling pin as I coaxed the dough into a large rectangle with a wine bottle covered in plastic wrap. It scarcely mattered that I couldn't get it very even. The dough welcomed its thick mat of butter, brown sugar, and cinnamon with aplomb. I rolled it into a drippy, burgeoning tube, slicing it into a dozen syrupy disks that made their way into a cake pan.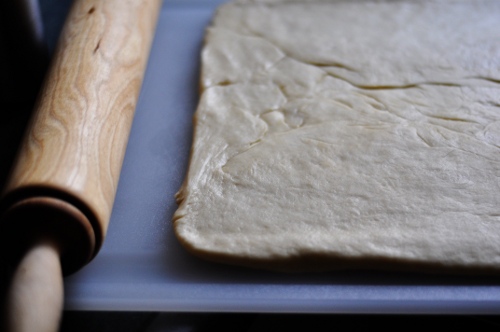 After the second rise, I was astounded to see that the rolls had truly doubled in size. What had once come close to loosely filling the pan was now threatening to rise up and leave altogether. Surely, this was a sign of good things to come.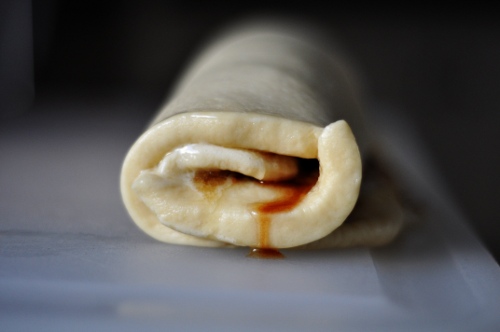 At the risk of sounding hopelessly twee, I will admit that I cried when I took my first bite of one of the rolls. Piping hot, silky, and feather-soft, it was like biting into a cloud in the version of heaven where everything is made of pastry (don't tell me I'm the only one who has had that awesome dream, right?). After regaining my composure, I loaded up a plate with a few more rolls and settled down on my futon to watch an old favorite, Green Card. It occurred to me, as Andie McDowell and Gerard Depardieu acted out the lighter side of immigration fraud to the sounds of Enya, that I had something truly wonderful in my possession. It remains among my very favorite recipes, both to make and to share.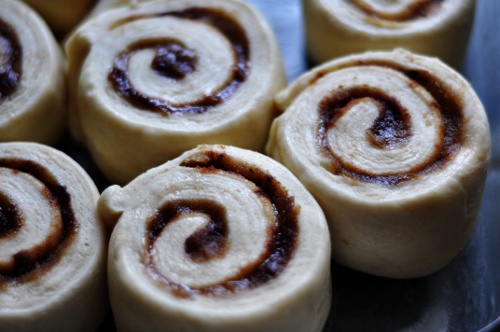 I have made these rolls in good times and bad.  I have made them for coworkers, for friends, for family, and for strangers.  I have made them with the full arsenal of a commercial kitchen and, most humbly, with a wooden spoon and a large pot.  Because they are a sure-fire crowd pleaser and require absolutely minimal equipment, I highly recommend taking the recipe with you when you travel.  You will be the houseguest who always gets invited back.

Cinnamon Rolls
Yields 8 – 12 rolls, depending on how thick you cut them
Ingredients
3 t instant yeast (about 1 ½ packets)
¼  cup warm water
1 cup milk
½  cup shortening
1/3  cup sugar
1 ½ t salt
1 egg, beaten with a fork
4 cups AP flour plus more for kneading
½ cup melted butter
1 cup brown sugar, packed (approximately)
cinnamon
Rundown
Add yeast to the warm water
Scald milk, pour over shortening
Add sugar and salt
Add yeast, egg, flour and mix
Knead
Raise 90 minutes
Shape, fill, roll, cut
Raise 1 hour
Bake
Glaze
Add the warm water to the yeast and soak 10 minutes.
Scald the milk by heating it in a small saucepan over medium heat until small bubbles begin to form around the edges (do not let it boil).  Pour over the shortening. Add the sugar and salt; stir until the shortening is mostly dissolved and set aside to cool to tepid.
Add the dissolved yeast and beaten egg to the milk mixture and stir to combine. Add 4 cups flour, one at a time.  Mix well with a wooden spoon after each addition. If you are using a mixer, mix on medium speed and scrape the sides of the bowl before each additional cup of flour.  The dough should be very soft, yet firm enough to handle.
Dust a clean work surface with flour, making sure your hands and wrists are also well-floured. Turn the dough out onto the floured surface and knead until elastic and smooth.  If things start getting sticky, sprinkle in additional flour as needed but do this sparingly. You should knead for at least 10 minutes – consider it an arm workout.
Clean the mixing bowl and spray lightly with oil.  Set the dough in the bowl and turn it over once to cover lightly in oil. Cover the bowl loosely with paper towels or a tea towel let rise in a warm place for 90 minutes.
Punch the dough down (just stick a clean fist right into the center) and turn out onto a large cutting board or clean countertop.  Roll out into a rectangle, approximately 9" by 13" and cover with the melted butter. Sprinkle brown sugar over the butter, bringing it as close to the edges as you can.  If you need more than a cup of brown sugar to evenly coat the whole rectangle, go for it.  Sprinkle a layer of cinnamon over the brown sugar as desired – go easy with it until you've tasted a batch or two, as cinnamon excess is tempting but makes for yucky rolls. If you like raisins, layer on a layer of raisins, but I will judge you. Roll up in a jellyroll (see notes).
Using a scissors or a piece of string (I generally just grab dental floss), cut off slices about 1 to 1-1/2 inches thick. Place slices in an 8 or 9 inch round cake pan or a 9×13 baking dish. Press down on slice with the heel of your hand. Cover, and allow to rise until the rolls fill the pan generously, about another hour.   You can also put the rolls on a cookie sheet if you don't like the edges to smoosh up against each other.
Bake in a 350F degree oven about 20 - 25 minutes. If the rolls get too brown, cover with a piece of  foil until the end of baking. Cool in the pan on a cooling rack and glaze with simple frosting (below) while the rolls are still warm.
Frosting
1 cup powdered sugar
1 teaspoon vanilla
Milk
Combine the sugar and vanilla in a medium bowl and stir in enough milk until it is thick and smooth. Spread over warm rolls so the frosting has a chance to drip into the inside layers.
Notes
To roll the dough in a jellyroll, fold the edge of the long side over on itself.  Continue rolling, keeping it as tight as possible.  When you get to the end, pinch the dough against itself to make a seam that will hold.  The squarer your rectangle, the more rings you'll get in each roll.  Experiment to find the dimensions you like best.
The melted butter makes for a lovely, syrupy filling but also tends to fall a bit as the baked rolls sit around.  If you mind this, reduce the melted butter to ¼ cup.  They won't be quite as sticky, but they'll stand up to a few days rest more handsomely.
If you want hot rolls for breakfast but don't feel like getting up four hours before you want to eat, prepare the dough the night before through the first raise. Once you've punched the dough down, cover the bowl with plastic and refrigerate until you are ready to shape the rolls.  Allow the chilled dough to come to room temperature on the kitchen counter for 15 minutes or so before you roll and fill them.
12 Responses to " The Best of the Best | Cinnamon Rolls "
I'm generally intimidated by recipes with yeast but this one looks good enough to make me get over that. Yum!

These look fantastic Bria. We just might have to make them for our guests over the weekend.

Thank for your sharing. I'll let you know how the challah comes out.

Hi Bria! No joke - I was laying in bed this morning thinking about how I wished I had a good cinnamon roll recipe for tomorrow morning. Voila! Can't wait to try these. See you this weekend, right??

Sacha - go for it! This was one of the first yeast-based doughs I ever tried in a serious way, and I have only been disappointed once. I was trying to make them less caloric (snort) and made them with Splenda. The yeast needs real, digestible sugar in order to do its thing, so with only the sugars available from the flour, it didn't rise properly. Other than that, I've never had a problem with it. Try - you'll surprise yourself.

Walker - thanks for the kind words! These are, IMBO, the absolute best way to quietly dazzle the crap out of guests (or hosts, depending on your place in the equation). Do let me know how the challah comes out. I've made that recipe into burger buns before, too, and they were absolutely spectacular.

Steph - yes! We're coming tomorrow. And rumor has it that I'll be making donuts for breakfast one day we're there…possibly Friday.

So, to make these for tomorrow morning, get things rolling (heh) this evening, and plan about 2 hours for yourself tomorrow morning to start them up again before you eat. Don't forget the second rise (which I have totally done - they're still edible, but not as lovely) and know that they won't appear to grow quite as radically during that time. They'll still get really fat in the oven, though. Can't wait to see you guys!

These look fantastic. I may make a pan to start us off on the right foot tomorrow, as we have a lot of cooking to do.

I am pretty excited to make these sometime soon!

These look so incredibly delicious. I have a quick question for you. I have very bad osteoarthritis and have had the joints in my hands replaced, etc. Therefore, my hands are quite weak and don't like to knead anymore. I do have a Kitchen Aid mixer with a dough hook. Do you think I could use that for the kneading part? If so, should I cut the kneading time in half? Thank you so much for your great site.

Ginny - absolutely. See how it looks after about 5 minutes of KA kneading. The dough should be able to pass a windowpane test when it's ready - if you can stretch a little piece of dough to nearly translucent without tearing it, you're good to go. Good luck!

Thank you so much, Bria! I will try it out.

Bria, cinnamon rolls are a baker's benchmark, and these look perfect - perfect for privately weeping over Green Card, that is. Guilty pleasures, both.

Thanks Marilyn - that means a lot

Pro tip re: Green Card - do not watch it on one of those little TVs attached to a treadmill. I did that once at the gym and ended up sounding like I was having an asthma attack because I was crying and running at the same time.