Tue 10 Nov 2009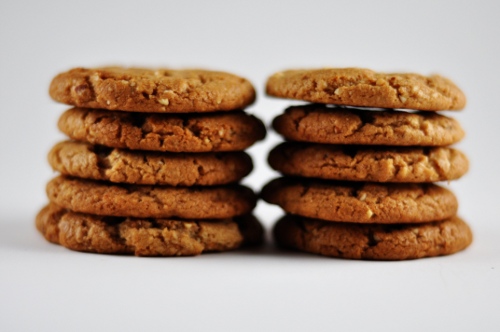 Peanut butter, your cookie reign has come to an end. Drop whatever you are doing and get a jar of almond butter, lovelies; a cookie revolution has begun.
Aside from the general avoidance annoyance inherent to any food allergy, I don't feel like I miss out on very many things due to my inability to eat peanuts. True, peanut M&Ms were tough to give up at first (I didn't figure out I was allergic to peanuts until I was in high school), but I rarely lament my inability to indulge in the world of everyone's favorite salty legume.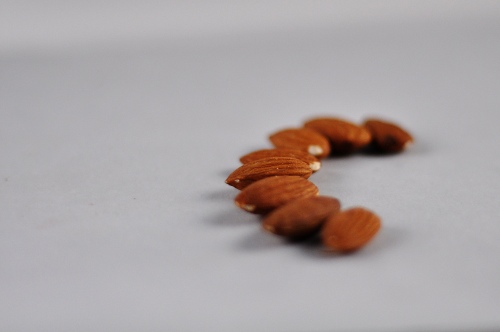 Except.
Except that every so often I really miss peanut butter cookies. The rich, salty ombre of the peanut butter brings a toasty mellowness to an otherwise basic cookie dough in a way that I always found quite irresistible. Once, one of my dad's coworkers gave everyone in their department a tin of peanut butter chocolate chip cookies and I thought I might keel over and die with happiness. They were, in a word, awesome. So awesome, in fact, that I find myself thinking about them every so often.
In thinking about those crazy, wonderful cookies the other day, I realized that I have never tried substituting almond butter for peanut butter in cookies. It seems like a reasonable substitution, but I have never seen a recipe that contemplates it. To my knowledge, I've never seen an almond butter cookie. After a bit of research to compare the properties of peanut butter and almond butter, I was convinced that I could swap one for the other without much fanfare.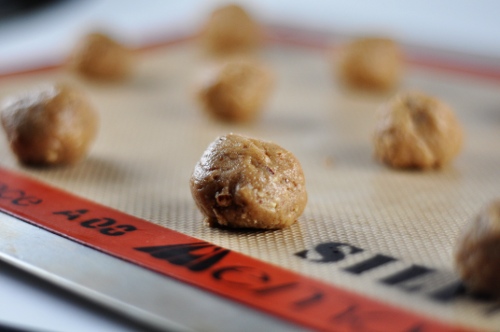 I'm thrilled to share that it worked; after a few trials and tweaks, I think I've come up with a really satisfying cookie. In true peanut butter cookie fashion, the dough provides an ample yield, making this a wonderful option for holiday baking and gifting. You can omit the toasted almonds if you wish, but I think they lend something lovely to the final result. You can also swap them out for ¾ of a cup of semi-sweet chocolate chips for a chocolate chip cookie that will blow your cookie-loving mind. You will, I'm sorry to say, discover that the dough is perhaps the loveliest, richest, most craveable cookie dough you've come across in a long time. I recommend making these when everyone else is out of the house, lest you find yourself in competition for who gets to lick the beaters.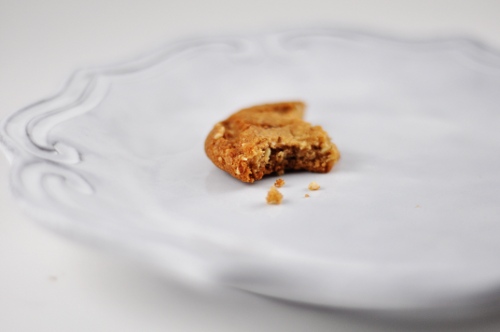 Almond Butter Cookies
Yields 30 to 36 cookies
Ingredients
1 cup whole almonds
¼ cup unsalted butter, softened (see note)
¼ cup shortening
½ cup granulated sugar
½ cup dark brown sugar, packed
1 egg
½ cup almond butter
1 t vanilla
1 ¼ cup AP flour
¼ t salt
½ t baking powder
¾ t baking soda
Rundown
Toast the almonds
Cream the butter, shortening, and sugars
Blend in the egg, then almond butter, then vanilla
Mix dry ingredients
Incorporate dry ingredients
Grind the almonds and incorporate
Shape
Bake
Cool
Preheat the oven to 375.  Scatter the whole almonds on a parchment-lined cookie sheet and toast 5-7 minutes.  Set aside to cool, but leave the oven on.
Cream the butter, shortening, and sugars in a large bowl until smooth, about a minute by mixer (stand or handheld) on medium-high speed.  Add the egg and beat again until fully incorporated.  Add the almond butter and vanilla and blend again.
In a medium bowl, toss the flour, salt, baking powder, and baking soda together with a fork.  Add this mixture to the dough and mix on low speed until partially incorporated.
Blitz the toasted almonds in a food processor until you have a mixture of small, coarse almond rubble. Add this to the dough and fold in by hand with a wooden spoon.  Shape the cookies by rolling small wads of dough between your palms.  To reach the stated yield, do not roll cookies larger than 1" in diameter.
Space the cookies at least 2" apart on a parchment-lined cookie sheet.  Do not press down on them once you place them; they reach their best shape when they start from a round ball.  Bake 10-12 minutes, until the edges begin to brown.  Allow to cool 5 minutes on the sheet before transferring to a cooling rack.
A few notes:
For the butter – do not soften it in the microwave.  Set the butter out on your kitchen counter 30 minutes before you want to begin baking and allow it to come to room temperature naturally.  When you soften in the microwave, melty butter often ensues, which will make your cookies flat.
Speaking of flat cookies – it is best to use two cookie sheets here so that you are always placing the next batch of cookies on a reasonably cool sheet.  If you put cookie dough on a hot cookie sheet, your cookies will be flat.
Almond butter – I used Maranantha No-Stir Almond Butter and found the texture to be perfect for baking.  My fear in working with almond butter was that there would be insurmountable oil issues, but the no-stir variety was smooth, thick, and didn't introduce any consistency problems to the dough.  If you attempt these with another brand or variety of almond butter, please let me know how they turn out.
19 Responses to " Sometimes You Feel Like a Nut | Almond Butter Cookies "
Have you heard about the Almond Flour cookbook? I think that it's by Elena's Pantry (but don't quote me on it).

Do you know if the Maranatha No-Stir almond butter has some other kind of fat, such as palm oil, or sugar in it? I'd love to know since I only buy the natural or organic almond butter, depending on the state of my wallet.

Thanks for this post. Your cookies look great. I want one.

Hi Jill - I have seen the Almond Flour cookbook, though I've never picked it up. I hear good things about it, though!

Here are the ingredients in Maranantha's no-stir cream almond butter: Dry Roasted Almonds, Organic Evaporated Cane Sugar, Palm Oil, Sea Salt. My husband found it at our regular grocery store. If you give it a go with another variety, do let me know how it goes. Since fresh almond butter tends to be a bit goopier, I would highly recommend you only put a few cookies on the first cookie sheet and give them plenty of room. That way you can see how much they spread and work from there. Enjoy!

What are your thoughts on using Pumpkin butter? I have a jar that I'd love to use, but I'm not sure if it would substitute as well…

I'm not sure that would work very well - at least it will produce a pretty different consistency. Pumpkin butter has almost no fat, where there's around 72 gms of fat in the 1/2 cup of almond butter in the cookies.

However, I think you can work pumpkin butter into the basic muffin recipe with reasonable success - I would start with a 1/2 cup and adjust as needed from there. Let me know if it works!

mmmm! In the beginning of the year, I had this dream of almond butter cookies with apricot pieces in them. Being cheap and lazy at the time, I decided to try it using the 3 Ingredient PB cookie recipe, which I had never tried before. FAIL.

The almond butter was reallllllly oily and basically the cookies fried in their own oil. With no flour in them to soak up any of that oil, they were pretty sickening. I would know, because I ate a gazillion of them.

I'll try out some almond butter cookies again sometime soon though, now that I have this encouragement from you =)
These look yummy!
And I'll try to find that almond butter you're talking about, so I don't fry cookies again.

=)

Dani - wow, apricot pieces would be really lovely in these. You've given me an idea for a way to make them even more holiday lovely. Hmm…I'll report back.

Definitely seek out a no-stir variety of almond butter and give these a shot. They come together in a snap (no chilling required) and are just plain lovely. I will not tell you how many I ate on Sunday; suffice it to say it was somewhere between "many" and "girl, be serious."

I'm so excited to find this recipe. PB cookies have always been my favorite, but after years of chronic vomiting (sorry) seven years ago we finally figured out it was due to peanuts. (I ate peanut butter every day.) I've missed PB cookies so much, and haven't had any success with almond butter cookies. I recently discovered the Maranatha No-Stir, but didn't think of it in terms of cookies! I can't wait to make these. I'll let you know how they turn out. Yay!

So glad to be of service, Lori. I completely understand how it feels to miss PB cookies. Do let me know how these turn out for you - I think you'll be quite pleased.

Finally, the holidays have slowed down and I got a chance to make these. Wow. I mean seriously. WOW. If you were here I'd give you a great big hug. These cookies are amazing!! They're even better than my old favorite PB cookies!! Thank you thank you thank you!

Hug accepted, Lori, thanks! I'm so glad you liked them. Did you try any of the raw dough? It's rather addictive.

Hey I don't have the no-stir version so I will try these with the regular almond butter and let you know if that has the "fried cookie" effect, or comes out fine. The thing is this almond butter I have, I didn't really have to stir much at all; they grind the nuts twice so it's really creamy, but I'm not sure if that'll help.
Thank you for the recipe. I've been allergic to all nuts (and peanuts) my whole life and only recently have I lost my allergy to almonds, walnuts, and macadamias. It took me a while to find almond butter but now that I've found it I'm in love!

Thanks again:)

I found this recipe and I made them tonight, they were amazing! Can't wait until my boyfirend gets home to try them I'm sure he'll love them as much as I do. Thanks for such a great new recipe!

Thanks so much for testing this out! I have several students who are allergic to peanuts and it made me wonder if this type of substitution was possible. I will try this the next time we do some baking in the classroom.

I sort of discovered your web site accidentally, but your web site caught my eye and that i thought that I'd post to tell you that I like it.

This website won't render properly on my droid - you may want to try and repair that

I made this with what I had on hand and my hubby loved them! He's also allergic to eggs so I used Ener-G egg replacer. I had no brown sugar, so I used 1 c of gran sugar; and i have the natural non creamy almond butter, but I used 1/2c of earth smart butter alternative and they weren't too crispy. They turned out perfect!

I see your site needs some unique articles. Writing manually
is time consuming, but there is tool for this task.
Just search for; Digitalpoilo's tools

I see your page needs some unique content. Writing manually is time consuming, but there
is solution for this hard task. Just search for: Miftolo's
tools rewriter

I do not even understand how I finished up right here, however I believed this
put up was once great. I don't know who you might be but certainly you are going to a well-known blogger if you are not already.
Cheers!