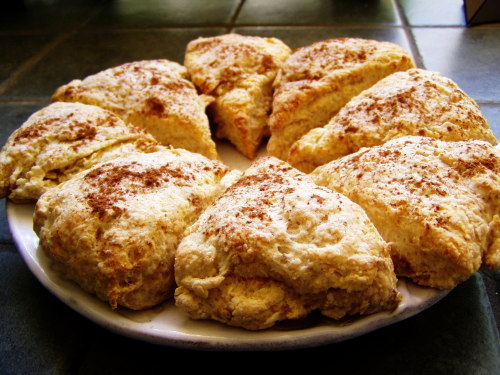 My first attempt at scones was, essentially, a disaster.  It ranks in my the top three episodes of Things I Can't Believe I Asked Other People To Eat.
I was a newly-minted college grad trying to settle into my first apartment, a spartan one-bedroom with awful carpet.   In fact, the carpet was so horrible I couldn't bring myself to purchase a vacuum in order to take care of it.  Rather than spend all that money on something so boring to use on something so ugly, I adopted the weekly ritual of wrapping my arms in masking tape and rolling around on the floor until I had sufficiently attracted all the errant cat litter.  Looking back, it's really not hard to see why I was single.
The scones came about in the process of hosting my first dinner party.  It was the best kind – the guests were bringing everything but dessert.  At the time, my bakeware arsenal was limited to a single cookie sheet and a pyrex brownie pan, so my dessert options were relatively narrow and did not include the layer cake I would have preferred.  A pile of blueberries were lurking about in the fridge, waving their arms and shouting ME! ME! ME! ME! ME! as they threatened to grow fur and walk out if I didn't use them soon.  So scones made sense.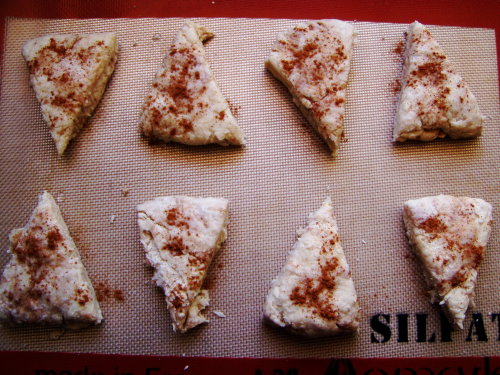 If my bakeware stash was limited, my pantry bordered on barren.  Rather than pony up and stock it appropriately, I decided to grow my kitchen more slowly by adding a few staples to my grocery cart each week.  Baking powder hadn't yet made the cut, a detail I unfortunately overlooked as I scanned the shelves to confirm that I had the necessary ingredients for my scones.  Let this be a lesson to you – make damned sure you have everything before you start cooking, lest you find yourself up a leavening agent creek without a baking powder paddle.
With less than an hour before the guests were set to arrive, I found myself staring at a bowl of dry ingredients in want of baking powder.  All I had was baking soda.  They are, sadly, not the same thing – baking powder has an acidifying agent that baking soda lacks, and without it the leavening action won't be the same.  Panicked, I frantically searched online for something, anything, that would tell me how to augment my recipe to accommodate baking soda.  Acid! I had a lemon! Problem solved!
Sort of.
Remember those super ripe blueberries?  They sure were blue.  Purple, really.  Had everything gone according to plan, the scones would have been quite purple from the berries' abundant, inky juice.  So it shouldn't have been a great surprise to find that the introduction of the (faintly yellow) lemon juice turned the dough a striking teal.  Really teal.  Tourist-fanny-pack teal.  Trashy-nail-polish teal.  Pontiac-minivan-from-the-mid-90s teal.  TEAL.
The scones tasted fine, and the supplemental acid actually yielded appropriate leavening from the ill-suited baking soda, but I'm telling you they didn't look like food.  After our lovely meal of roast beef, mashed potatoes, and roasted summer vegetables, I withered a bit and presented my monstrosities with the promise that they tasted better than they looked.  It is to my guests' credit that they so ably concealed their horror as they choked down the first bite.  I promptly relegated scones to the realm of Things I Don't Make (where they joined baklava and beef jerky), and forgot about them for almost a decade.
Scones and I have since reconciled.  They have made their way into my regular weekend breakfast rotation, and I hope you will give them a try.  If you aren't moved by the maple cinnamon action, substitute nuts, finely chopped dried fruit, mini chocolate chips, or any combination thereof.  The underlying recipe comes from the lovely Clotilde Dusoulier.  If you aren't familiar with Chocolate & Zucchini, please give it a browse.  Her sensibilities are nothing short of delightful.
(Keep reading Maple Cinnamon Scones…)