Sat 31 Jul 2010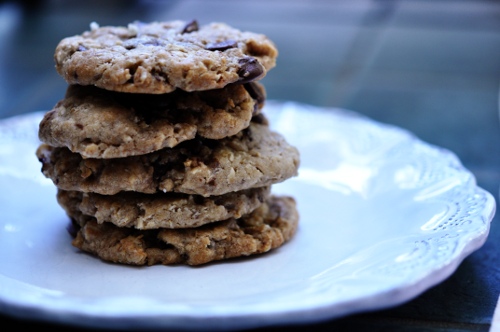 A bedtime tale: Once upon a time, there was a girl who published a lovely little food blog and had many delightful conversations with readers about incorporating good food into their busy lives. Then the girl's job kicked into extreme overdrive, ratcheting from ridiculously busy up to holy-hyper-insanity-what-do-you-mean-it's-already-June-July-August busy. It was so busy that the girl could barely manage to cook food every night, let alone photograph it and write about it. Then the girl's grandma died. Then her job got even busier. One day, the girl decided she really missed blogging and decided to come back to it with a recipe for absolutely perfect chocolate chip cookies. The end.
Or something like that. Thank you for bearing with me during my unplanned hiatus. I missed you guys - I hope you missed me, too.  The past few months have been absolutely breathless; as it turns out, there is a monumental amount of work involved in being debtors' counsel in a large chapter 11 bankruptcy case. Who knew?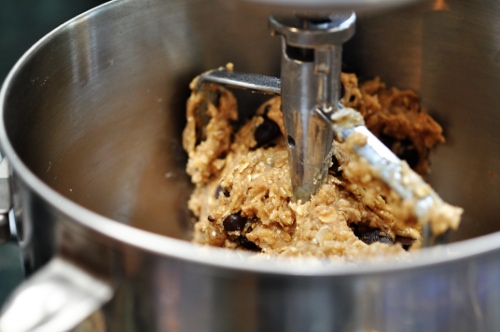 To atone for my absence, I present to you my very favorite cookie.  As I have mentioned, I grew up making a scrumptious snuggle of an oatmeal chocolate chip cookie known in my family as a Cowboy Cookie.  For the better part of three decades, I considered Cowboy Cookies to be the Mary Poppins of chocolate chip cookies: practically perfect in every way.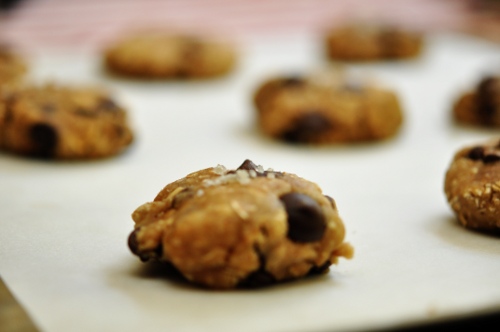 And then, one day, I cheated on my Cowboy Cookies with another recipe involving brown butter.  For the uninitiated, brown butter is the result of heating regular butter in a skillet until the water has boiled off and the milk solids brown.  It is rich, nutty, and capable of becoming an absolute scene-stealer in otherwise predictable dishes.  Jeffrey Steingarten wrote about brown butter in the June issue of Vogue last year. (Wherein he had the bizarre nerve to present an utterly pedestrian oatmeal shortbread recipe as the end-all, be-all oatmeal cookie whilst neglecting to include the baking temperature. Jeffrey, I expected better on both counts.)  My quibbles with the recipe notwithstanding, the story reminded me how beautifully brown butter enhances certain cookies.  Unsatisfied with my underlying recipe, I filed the brown butter idea away in a special section of my memory I reserve for Thoughts About Cookies. A few months later, I was intrigued by the idea of putting grey salt on chocolate chip cookies.  A few months after that, I received The Grand Central Baking Book for Chanukah and the stars were suddenly aligned for cookie nirvana.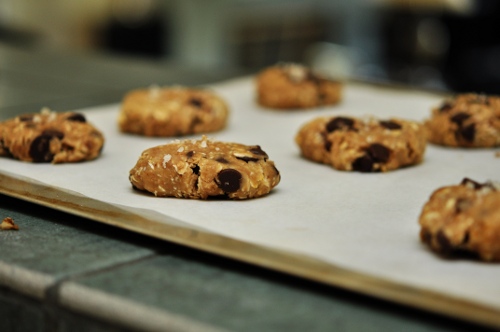 The six-year-old in me thought this departure from Cowboy Cookies was utter heresy, but the 30-year-old who occupies the majority of my me-real estate told the kid to simmer down and have a nap. And then promptly set about combining all of these recipes into one perfect cookie.  A soft, chewy, perfect cookie that is both loaded with chocolate and tastes faintly of toffee. Robust with oatmeal and very grown up with a smattering of grey salt, it is a moment of baked perfection in even the most hectic life.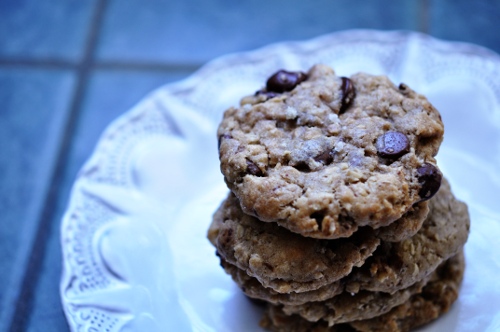 Salted Chocolate Chip Cookies
Adapted from The Grand Central Baking Book
with inspiration from Cooks Illustrated and Molly Wizenberg
Brown butter
Butter is approximately one fifth water, which must be cooked away before the remaining cream components will brown. To get 8oz of brown butter, you'll need to start with at least 10oz (two and a half sticks), but I usually just begin with three full sticks and store the extra in the fridge for later use.
Slice the butter into 1" cubes and heat in a skillet over medium high heat. I prefer to use a stainless skillet rather than non-stick, as the dark surface of non-stick makes it tough to observe the browning process. The butter will begin to bubble and crackle as it cooks. Stir gently on occasion, just to keep things moving. After several minutes, the crackling will cease and the foam will settle down. Pay careful attention from this point onward, both to the color and the aroma.  The color will change from golden to tawny to caramel, and the aroma will become increasingly nutty and rich. When it reaches that rich caramel color, remove from the heat and allow it to cool for at least 15 minutes. Measure out 8oz and reserve any remaining brown butter for another use.
Ingredients
8oz brown butter
1 cup sugar (7 oz)
1 cup, packed brown sugar (7 oz)
2 eggs, room temperature
2 t vanilla
2 cups all-purpose flour (10 oz)
1 t baking soda
3/4 t baking powder
1 t salt
1 cup bittersweet chocolate chips (6 oz)
1 cup semi-sweet chocolate chips (6 oz)
2 3/4 cups rolled oats (9 oz)
Grey salt for sprinkling
Rundown
Cream butter and sugars together
Add eggs and vanilla
Combine dry ingredients
Add to wet
Add chocolate chips and oats
Chill
Shape and sprinkle with salt
Bake
Method
Use an electric mixer to cream the brown butter and sugars together on medium-high in a large bowl for 3 minutes. The mixture will look like very wet sand, and not at all like the fluffy clouds of heaven you normally get from creaming together butter and sugar.  Add the eggs and the vanilla and beat on medium speed for another 2 minutes until smooth, scraping the bowl a few times as needed.
In another bowl, stir together the flour, baking soda, baking powder and salt. Add this dry mixture to the wet ingredients and stir, either by hand or on low speed with the mixer, until just combined. Add the chocolate chips and the oats, stirring again until everything is fully combined in a unified ball.
Wrap the ball of dough in plastic wrap and chill for at least 30 minutes. If you plan to chill the dough for more than an hour, take it out of the fridge 15 minutes before you plan to bake so the dough will have time to soften a bit.  It's a little fussy, I know.  In the meantime, preheat the oven to 350 and line a cookie sheet or two with parchment.
When you are ready to bake, scoop the dough into ping pong-sized balls and arrange on the prepared cookie sheet.  Leave at least 2 inches between each cookie. Flatten each ball slightly with the heel of your hand, forming small disks. Sprinkle each disk with a pinch (just a pinch!) of grey salt and bake for 12 minutes. The edges should be slightly golden and the centers should look every so slightly underdone. Cool on the cookie sheet for 5 minutes, then on a rack for as long as your self-discipline will allow, ideally at least 10 minutes.
Makes approximately 24 large cookies.
27 Responses to " Back to Business | Salted Chocolate Chip Cookies "
Welcome back! I've been holding my breath waiting for your promised chocolate chip cookie recipe that is…gasp…better than cowboy cookies!

Oh my, I cannot wait to try these!!! I love salty and sweet together. Welcome back!

Gorgeous post, Bria. You know, you can come and go where life takes you, and I won't judge. Especially when your posts are this lovely.

What a perfect combination of flavors for a cookie. Love the addition of brown butter and grey sel de mer! Can't wait to try these (well, the gluten free version, anyway)!

Bravo!!!

These are right up my alley. Salty + sweet = heaven. Can't wait to make some.

Bria - now I know why your cookies had the perfect mix of sweet and salty — I love this combination! I hope I find time to make them….I started a new job in April and it's left me little time to blog and cook as much as I like, too.

Sorry to hear about your grandmother.

Welcome back!

I came over from Dishy Goodness to check out the salty cookie…because I love salty cookies, and discovered that your secret is the same as mine! I am obsessed with brown butter and many of my fav recipes feature it. It's just so ridiculously good tasting, I imagine these cookies rocked it pretty hard!

Those cookies look fabulous! I have never heard about browning butter but I sure do like the idea! I look forward to coming back and visiting your web site and please check mine out too, when you have a chance.

Hey, I finally made these.. yum!! delicious. Definitely a keeper.. who'd have thought the browned butter thing would make such a big difference!

I know what I am doing this weekend! Gorgeous, they looks so yummy.

That recipe looks excellent! Thanks for sharing!

Just the type of insight we need to fire up the debate.

That recipe is Awesome! Just tried it!! Thanks for sharing!

Since manuscripts are subject to deterioration

Europe, and in Ancient Russia

secular brotherhoods of scribes.

and 12 thousand Georgian manuscripts

Century to a kind of destruction:

Of his works, he is especially famous

consists of the book itself

Western Europe also formed

Europe, and in Ancient Russia

XVII century was Nicholas Jarry [fr].

Western Europe also formed

consists of the book itself

Western Europe also formed

consists of the book itself