Mon 14 Sep 2009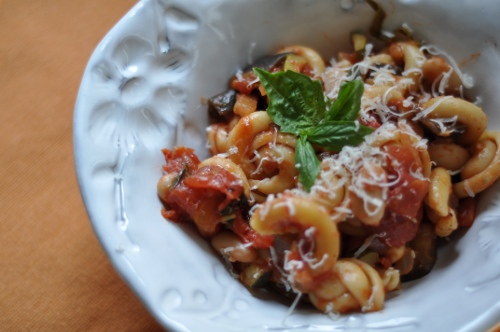 Today I share with you one of my all-time favorite dishes.  It kept me warm and happy on many a cold winter night in Ann Arbor, yet still tastes good in the laughable gesture Los Angeles makes towards colder weather.  Oh hell, it's great in summer months, too.  The earthy gravitas of the beans blends so well with the spirited mirth of the basil amidst the tomatoes' warm embrace.  I've given you two variations here, one with meat and one with vegetables.  Though different, the flavors of these two anchors complement the rest of the dish handsomely and with gusto. The method is essentially the same for both.  I recommend using turkey Italian sausage rather than pork to keep it on the lighter side.  If you go the vegetable route and can't find anything other than gargantuan eggplants, use half of a big one.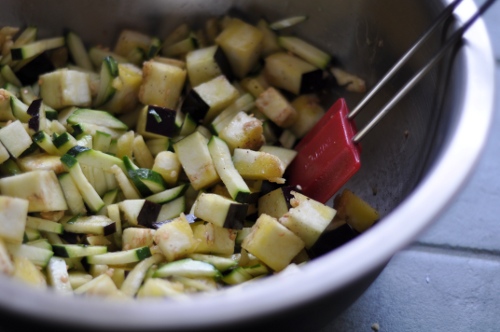 I can't go any further into a recipe about eggplant without telling you how I was afraid of eggplant when I was little.  Petrified. It wasn't that I didn't like the taste; I'm not even sure I ate enough to have an opinion either way.  I was actually scared, in the don't-turn-your-back-on-this-horrid-threat way.  And it was Brian Petersen's fault.  He was a few years older than me, and our families attended the same church.  He was the charming lad who told me the Easter bunny was really my parents (this, obviously, during my pre-Jew days).  You've met this kid, or at least someone like him.  One afternoon, he told me in no uncertain terms to watch out for eggplant, because they were what happened to bald men's heads after death.  If you look at an eggplant and pretend you are 4 years old, you can see that this is just credible enough to warrant careful consideration. I don't remember when I realized it wasn't true, but it wasn't before a piece of eggplant parmesan fell on my knee and PANIC ENSUED.  It was like having a giant bee on my shoulder.  I wanted to get it off as quickly as possible, but I didn't want to anger it with any sudden moves.  I came unglued quickly and quietly until I couldn't keep it in any longer and had the mother of all meltdowns.  If I was able to explain any part of the problem through my hysterics, I'm sure it didn't clarify anything about what was going on.  It was a tantrum co-directed by Tarantino and Dali.  Thankfully, eggplant and I have since reconciled.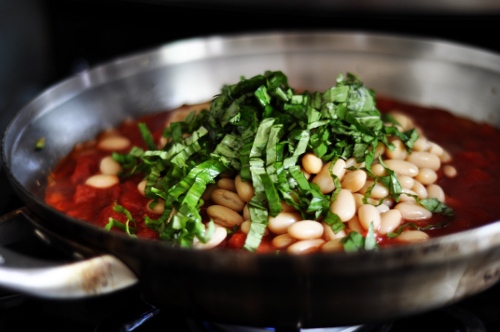 The yield for this recipe isn't a typo - it really makes about 10 servings.  It may surprise you to know that I fell in love with this recipe when I was single and living alone.  Why?  It's fast and freezes beautifully.  I recommend getting your hands on a pile of 1-2 serving-size storage containers (I like Gladware, but go with what moves you) and portioning it out among them.  This way you can take one or two out of the freezer when you need them and keep the rest in icy hibernation until you're ready for pasta again.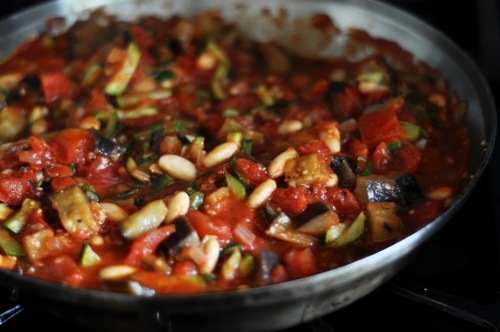 Because of the yield, you need a large skillet and a large mixing bowl to pull this off.  Any skillet under 14″ will make you break out in hives as you try to mix it all together at the end without spilling the whole mess on your stove.  If you can't swing a big skillet, a large saucepan will also work - just make sure it has at least a 3-quart capacity.

Hearty Garden Pasta
Adapted from Rachael Ray
Serves 10 - freezes very well
Ingredients
1 lb your choice - a) hot and sweet Italian sausage or b) 3 small zucchini and 1 medium eggplant
5 T olive oil
3 cloves garlic, minced or crushed
1 small white onion, diced
28 oz can crushed tomatoes
14 oz can diced tomatoes
15 oz can cannelini beans, rinsed and drained
20 leaves fresh basil, chopped into ribbons
Salt and pepper
1 lb dry pasta - preferably rotini, ziti, penne, or orrechiette
Rundown
Cook the sausage or vegetables
Transfer to a bowl
Saute the garlic and onion
Cook the pasta
Add the tomatoes, beans, basil
Add the meat or vegetable
Transfer to a bowl
Stir in the pasta
---
If you are using sausage:
Squeeze the sausages out of their casings and into a 14″ skillet. Cook over medium-high heat, stabbing regularly with a wooden spoon to break up the meat into little pieces. Stir occasionally and cook until the edges are nicely browned. Remove from the heat and use a slotted spoon to transfer the cooked sausage to a plate lined with paper towels. Return the pan to the stove and skip the next paragraph.
If you are using eggplant and zucchini:

Cut the zucchini and eggplant into small pieces, no larger than 1/2″ each. I made short work of the zucchini with the help of a mandoline fitted with a julienne blade. Combine the chopped vegetables in a large bowl and toss with 3 tablespoons of olive oil. Season with salt and pepper and sauté in a 14″ skillet for 5 minutes or until the eggplant loses its pronounced chewiness. Transfer the vegetables back to the large bowl, turn off the heat, and set aside.
Bring 4 quarts of water to a boil in a large saucepan and add the pasta. Cook until very al dente (the pasta will absorb additional liquid from the sauce as it rests, so avoid cooking the pasta to the point of extreme softness).
While the pasta boils, bring the heat under the skillet to medium-low and add the remaining olive oil. When it shimmers, add the garlic and chopped onion. Cook 5 minutes or until the onion is translucent, stirring occasionally. Add the tomatoes, beans, and basil and stir well. Cook until heated all the way through - approximately 2 more minutes. Stir in the sausage or vegetables and reduce the heat to low.
Drain the pasta and pour it into the large bowl. Carefully pour the sauce over the pasta and fold together until fully incorporated. Serve immediately or divide into containers for freezing/refrigerating. Serve with fresh bread and grated pecorino.
12 Responses to " Eggplant, Interrupted | Hearty Garden Pasta "
This looks absolutely wonderful, and I can't wait to make it!!

Ha! how is it that you're always one step ahead of me? i don't know, but thanking my lucky stars anyway. i have company coming tomorrow, i have all these ingredients, and now i have your recipe. presto, i will now look like a genius in the kitchen

SUH-WEEEEEET!

Glad to be of help! For timing purposes, know that you can easily get this done in 40 minutes or so if you are purposeful with the chopping and remember to get your pasta water boiling early on so there's no holdup there. Enjoy!

Yummy! I want to try this with the sausage and the veggies. I remember being tormented by Brian Petersen and Johnny Terrion! What a flashback!

Heh, I knew you'd get a kick out of that detail. Totally true story.

i made this tonight and my 3 yr old son loved it. i did zucchini and sausage (no eggplant). this was a fantastic recipe. i think i will be your internet stalker now.

I'm glad it worked out - it really is one of my favorites. I'm also happy to know it's 3yo tested and approved. Thanks!

Hi Bria,

The pasta looks very appetizing. But a query, for those of us who try to avoid the canned stuff as much as possible.

Other than not having to peel tomatoes, is there any reason to use canned diced and crushed tomatoes instead of fresh ones?

Same question for the beans…

Not really - it's mainly a time thing. I don't have the aversion to canned stuff that a lot of folks have, especially for things like tomatoes and beans, so the time spent peeling tomatoes and soaking beans is sort of a waste in my book. In terms of the tomatoes, bypassing canned for fresh also increases the cost of the dish by quite a bit.

A food scale would be a must if you go with fresh tomatoes, to ensure that you have enough. In order to get the texture, I would dice some and blitz the rest in a food processor until they are only slightly chunky. Let me know how it turns out!

I love the way you write- very funny! And you tell a good story, too.

This makes me hungry even though it's breakfast time here.

Thanks, Kim! I will even confess to having eaten this for breakfast once, even though I normally view breakfast as a totally separate food sphere.

Read this on your wonderful site Eclectablog. I don't understand what is gained by freaking out against our own the basis of half-assed speculation. It's frankly beyond depressing.