Tue 21 Apr 2009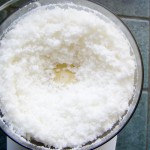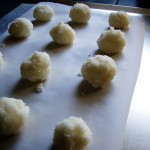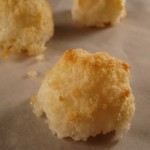 My first foray into Passover baking came during my second year of law school.  My wonderful Seder hosts asked me to bring a dessert.  Knowing the somewhat crippling restraints on Passover baking (and there are really only so many flourless chocolate tortes one can choke down in one lifetime), they were kind enough to suggest that a few cans of Manischewitz macaroons would be fine – "so long as they are plain or chocolate flavor and not something gross like tutti-frutti."  I wasn't really interested in bringing macaroons from a can, so I embarked on what proved to be a horrifyingly fraught adventure in Learning How to Make Sponge Cakes the Hard Way.  The next time I feel like making that particular Passover sponge cake again, I'll show you and I'll detail the ways around my prior missteps.  It may be shortly after I cure cancer, so don't hold your breath.
Tutti-frutti grossness notwithstanding, macaroons are a mainstay of Passover dessertdom.  There are two families of macaroons – coconut and almond.  If you aren't particularly rigid in your definitions of chometz, my Mandelhoernchen could also work (the powdered sugar in the almond paste will pose a problem for many, as it contains cornstarch).  This year, I decided to try my hand at simple, straight-up, no frills coconut macaroons.  Ideally, they should be little orbs of golden coconut; crisped exteriors with chewy, creamy centers.  Some people extrude them from a star-tipped pastry bag, but I prefer to shape them by hand.
I'm somewhat sorry to say I didn't get around to making these until the very tail end of Passover, and ended up finishing them after it was over.  I won't make the same mistake next year.  Though not as addictive as matzoh toffee, they are profoundly good when you want something simple and tooth-achingly sweet.

Coconut Macaroons
Makes 20-24 macaroons
Adapted from Cooks Illustrated, by way of Jessica Litman
14 oz sweetened coconut
1 ½ cups granulated sugar
3 egg whites
½ t almond extract
In the bowl of a food processor, combine the sugar and coconut for 1 minute.  You could also do this in a blender, though the results won't be quite the same.  Add the egg whites and almond extract and process for another minute.  You should have a bowl full of the most delicious snow-like substance at this point.
Chill the mixture for at least 20 minutes (or up to 3 days).  You can bake them outright, but I have better luck with them keeping their shape when they start out chilled.
Preheat the oven to 325 and line two cookie sheets with parchment paper.  This is critical – macaroons spread out a little puddle of macaroon juice as they bake.  If you are baking on parchment, it peels right off and makes a delicious tidbit to eat while your cookies cool.  If you are baking directly on the cookie sheet, you are either in for a renewed relationship with your best scraping device, or you are heading to Target soon to get a new cookie sheet.  Use parchment; it's awesome.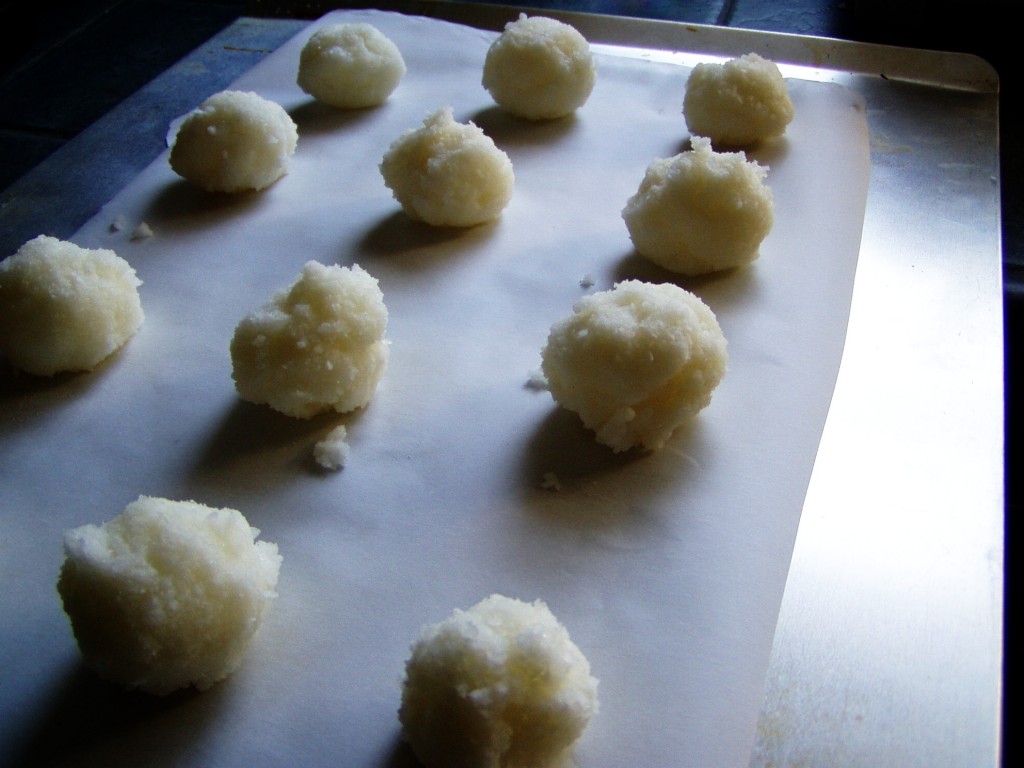 Using a tablespoon or your hands, pack the coconut snow into firm balls.  Really smoosh them together so you have nice rounds.  Space evenly on the sheet – at least 2 or 3 inches between them.  Bake 20 to 25 minutes until they are a lovely, golden brown.  If at the end of 25 minutes you only have little brown tips and the rest of the cookies are bright white, keep cooking.  You aren't done until they are really golden.  This will give you a caramel-y, chewy exterior.
Allow the cookies to cool on the cookie sheet for several minutes.  They will most likely appear as perfect little macaroon balls on a lacy, suspended puddle of baked macaroon juice.  What you do with the puddle is up to you. As I stated above, it's lovely to snack on.  I typically peel the whole thing, ball and all, off in one piece and carefully remove the most extraneous perimeter of lace.  I keep the cookies in an airtight container and collect all the extra bits in a bowl to nibble.  You can also keep them totally intact, but they will look more like coconut jellyfish than like macaroons.
These are also delicious when dipped in a little melted chocolate.  Either way, they knock the pants off any tutti frutti garbage from a can.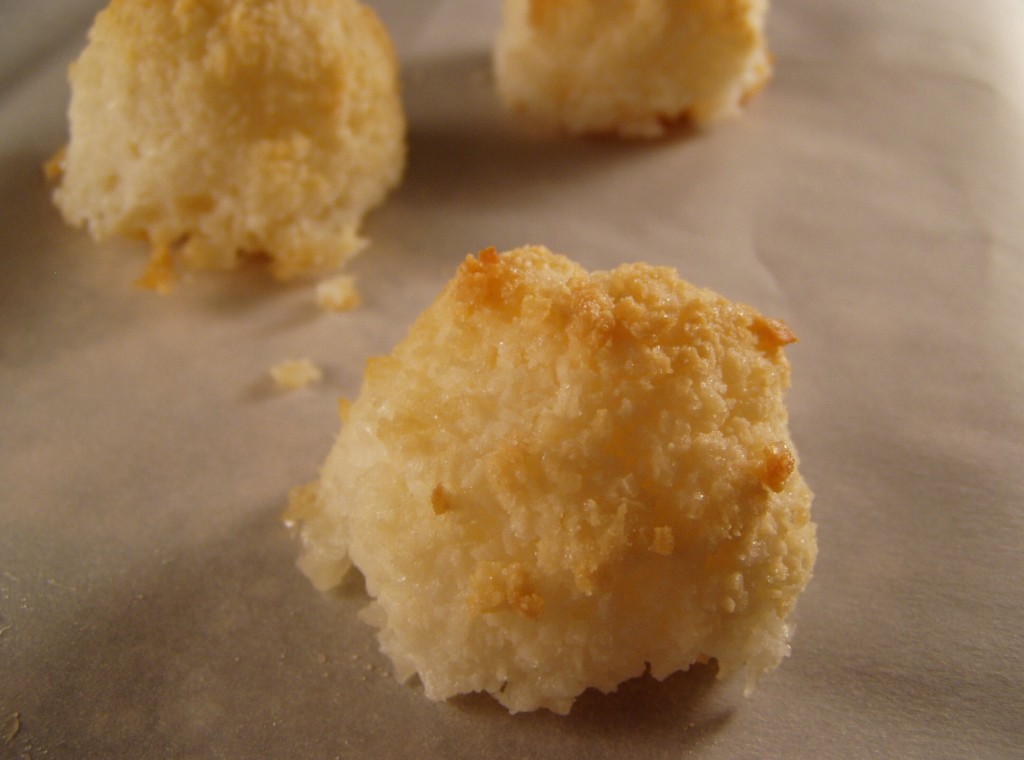 5 Responses to " Mighty Macaroons "
Howdy just wanted to give you a quick heads up. The words in your post seem to be running off the screen in Firefox. I'm not sure if this is a format issue or something to do with internet browser compatibility but I thought I'd post to let you know. The layout look great though! Hope you get the problem resolved soon. Thanks

I have checked your blog and i've found some duplicate content, that's why you don't rank high in google's search results, but
there is a tool that can help you to create 100% unique content, search for; Boorfe's tips unlimited content
Trackbacks & Pingbacks:
[...] Coconut Macaroons - a simple dessert with just a few ingredients - Read the recipe: The Salty Spoon - Spring the the [...]

[...] Coconut Macaroons – a simple dessert with just a few ingredients - Read the recipe: The Salty Spoon - Spring the the [...]

[...] Coconut Macaroons – a simple dessert with just a few ingredients - Read the recipe: The Salty Spoon - Spring the the [...]